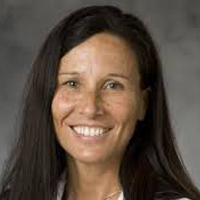 Our Next Show: Allo Transplant for Young, High-Risk Myeloma Patients with Cristina Gasparetto, MD, Duke University, Friday, Feb 17 @ 1 pm Eastern
Friday, February 17, 2017 @ 10 am Pacific, 11 am Mountain, Noon Central, 1 pm EasternCall In by Phone to Listen Live: (347) 637-2631 or Listen Live Via ComputerAllogeneic stem cell transplant is rarely used in multiple myeloma treatment, but for younger patients with high-risk myeloma, it could be a highly effective strategy with durable outcomes. Dr. Cristina Gasparetto from Duke University shares the rationale of this approach for a subset of myeloma patients and how improvements in reducing allo side effects (like graft vs. host disease) are making this type of transplant easier.
Dr. Gasparetto is Associate Professor of Medicine at the Duke Cancer Institute. She performs both laboratory and clinical research in the field of multiple myeloma. Her primary research interests are in developing immunotherapy approaches to treating multiple myeloma particularly in conjunction with hematopoietic stem cell transplantation. Ongoing laboratory research projects include the development of dendritic cell vaccines and antibody therapies. Clinical studies include a recently approved trial involving vaccination with autologous dendritic cells pulsed with idiotypic protein following high dose chemotherapy and autologous peripheral blood stem cells transplant. Upcoming trials include novel antibody therapies for multiple myeloma. Dr. Gasparetto is also an investigator on several other clinical trials for myeloma including non-myeloablative allogeneic transplantation, high dose sequential chemotherapy and autologous peripheral blood stem cell transplantation and transplantation of partially HLA matched unrelated cord blood. Thanks to our episode sponsor, Takeda Oncology.

About the Author