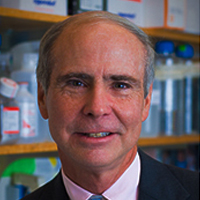 Kenneth Anderson, MD
Position:
Program Director, Jerome Lipper Multiple Myeloma Center and LeBow Institute for Myeloma Therapeutics, Institute Physician, Kraft Family Professor of Medicine, Harvard Medical School, Chief of the Division of Hematologic Neoplasia, Vice Chair of the Joint Program in Transfusion Medicine at Dana-Farber.

Research Focus:
After graduating from Johns Hopkins, Dr. Kenneth Anderson trained in Internal Medicine and completed training at the Dana Farber Cancer Institute in Hematology, Medical Oncology and Tumor Immunology. Over the last three decades, he performed extensive laboratory and clinical research studies on myeloma and has developed laboratory and animal models of the tumor in its microenvironment, which have identified and validated new target therapies that have quickly moved into clinical trials culminating in FDA approval. His paradigm for identifying and validating targets in the tumor cell has transformed myeloma therapy and dramatically improved patient outcomes.
years treating myeloma: 38
Number of Myeloma Patients Treated Annually: 500
---
Details & contact info

Boston, MA, United States, 02215
Phone: 617-632-3823 or 617-582-8347