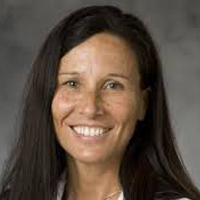 Cristina Gasparetto, MD
Position:
Associate Professor of Medicine; Member of the Duke Cancer Institute, Director of Duke Multiple Myeloma Program

Research Focus:
Dr. Cristina Gasparetto is an Associate Professor of Medicine at Duke University Medical Center in Durham NC, where she is also leading the Multiple Myeloma program within the Division of Cellular Therapy and Hematologic Malignancies. After early training at MSKCC in New York City, she completed her Hematology and Oncology fellowship at Duke in 1999, she was recruited to remain as a faculty member in the Bone Marrow Transplantation Program and it was clear from the very beginning of her career that her main area of research and clinical focus was in myeloma and other plasma cells disorders. While Dr. Gasparetto initially began in the laboratory working on the development of a myeloma specific dendritic cell vaccine, currently she focuses on clinical research optimizing transplantation and new drug development for myeloma and amyloidosis. Dr. Gasparetto is recognized internationally as an expert in this disease and is a member of national and international committees of significance that direct the care of patients in this disease, including the International Myeloma Working Group and ALLIANCE among others. Her focus on this illness has allowed her to build a nationally recognized clinical research program at Duke where she serves as a leading investigator in multiple studies.
years treating myeloma: 15 years
Number of Myeloma Patients Treated Annually: 1000-1300
---
Details & contact info
Duke University Medical Center

Duke Medicine Circle Crest Street
Durham, NC, United States, 27710
Phone: 919-668-1027