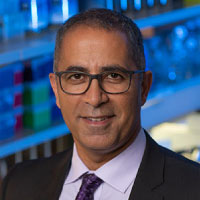 Joseph Mikhael, MD, MEd, FRCPC, FACP
Position:
Dr. Joseph Mikhael is Professor of the Translational Genomics Research Institute in Phoenix, Arizona and is Consultant Hematologist, HonorHealth Research Institute in Scottsdale, AZ. Dr. Mikhael also serves as the Chief Medical Officer at the International Myeloma Foundation.

Research Focus:
Dr. Mikhael's research interests include disparity in myeloma care, international health and Phase 1 clinical trials in advanced multiple myeloma.
years treating myeloma: 21
Number of Myeloma Patients Treated Annually: 300
---
Details & contact info
HonorHealth Research Institute

10510 N 92nd St
Scottsdale, AZ, United States, 85258
Phone: 480-323-1364