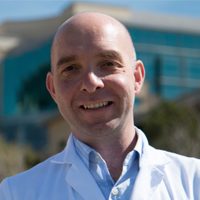 Djordje Atanackovic, MD
Position:
Dr. Djordje Atanackovic, MD is Associate Professor of Internal Medicine in the Hematology/BMT department at Huntsman Cancer Institute. His main areas of interest are Tumor Immunology and Cancer Immunotherapy including Adoptive Cell Transfer with a strong focus on multiple myeloma.

Research Focus:
Preferred protocol in the first-line setting and outside of clinical studies would be single transplant with or without maintenance therapy depending on the risk profile of the patient. However, we always prefer for a patient to be treated within a clinical study and in that case my focus would be immunotherapy.
years treating myeloma: 17
Number of Myeloma Patients Treated Annually: 200-500
---
Details & contact info
East North Medical Drive Greater Avenues
Salt Lake City, UT, United States, 84112
Phone: 801-585-2626