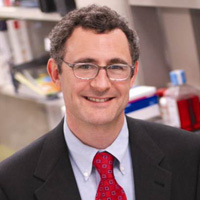 Stephen Russell, MD, PHD
Position:
Professor of Medicine

Research Focus:
The research interests of Dr. Stephen Russell, MD, PhD, center on demonstrating the value of oncolytic virotherapy as a new modality for the treatment of cancer. Viruses from several families are engineered in Dr. Russell's laboratory. His team currently has oncolytic projects focusing on measles, vesicular stomatitis virus (VSV), coxsackievirus A21 (CVA21) and Mengo virus. Nonreplicative adeno-associated viruses, lentivirus and adenovirus vectors also are used extensively.
years treating myeloma:
Number of Myeloma Patients Treated Annually:
---
Details & contact info
7 Level Skyway
Rochester, MN, United States, 55906
Phone: 507-284-2111