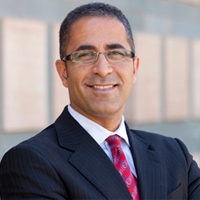 Joseph Mikhael, MD
Position:
Hematology/Oncology. Associate Professor of Medicine.
Dr. Mikhael's primary research interest is in multiple myeloma and its related conditions (Waldenstrom's Macroglobulinemia and amyloidosis). He also pursues research in medical education, benign hematology and pharmacoeconomics.

Research Focus:
Multiple myeloma, Waldenstrom's and amyloidosis Principal investigator of multiple clinical trials in both newly diagnosed and relapsed disease. Many of these trials include novel agents as well as combination therapies. He also has an interest in the growing field of quality-of-life in multiple myeloma.
years treating myeloma:
Number of Myeloma Patients Treated Annually:
---
Details & contact info
Mayo Clinic Collaborative Research Building East Shea Boulevard
Scottsdale, AZ, United States, 85260
Phone: 480-301-8335