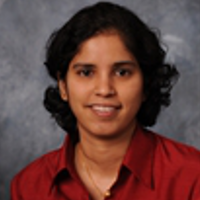 Anita D'Souza, MD, MS
Position:
Assistant Professor of Medicine

Research Focus:
Her clinical and research work is focused on plasma cell cancers (e.g. multiple myeloma, AL amyloidosis, POEMS syndrome, Waldenstrom Macroglobulinemia) and the use of hematopoietic cell transplantation to treat these diseases. She serves as a scientific director of the Plasma Cell Disorders and Adult Solid Tumors working committee in the Center for International Blood and Marrow Transplant Research (CIBMTR). She is principal investigator on clinical trials in amyloidosis and multiple myeloma. She is a recipient of the 2016 KL2 Career Development Award from the Clinical and Translational Science Institute. Dr. Anita D'Souza is board certified in Internal Medicine, Hematology and Medical Oncology.
years treating myeloma:
Number of Myeloma Patients Treated Annually:
---
Details & contact info
333 Pine Ridge Boulevard
Wausau, WI, United States, 54401
Phone: (866) 680-0505