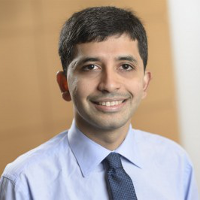 Sham Mailankody, MBBS
Position:
Board-certified hematologist/oncologist specializing in multiple myeloma

Research Focus:
I am a medical oncologist and hematologist specializing in the care of people with multiple myeloma and related plasma cell disorders. With my colleagues at Memorial Sloan Kettering Cancer Center, I am focused on identifying optimal treatment strategies for people with these disorders. I am interested in the molecular pathways underlying progression of plasma cell disorders and the development of targeted strategies aiming to delay, prevent, and cure full-blown disease. I also have an interest in health policy as it relates to oncologic drug approvals and the cost of cancer care.
years treating myeloma: 14
Number of Myeloma Patients Treated Annually:
---
Details & contact info
Memorial Sloan Kettering Cancer Center

York Avenue Manhattan
New York City, NY, United States, 10128
Phone: 212-639-2000 or 212-639-5153