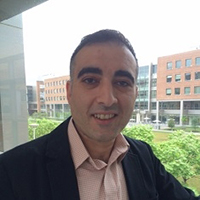 Dickran Kazandjian, MD
Position:
FDA-NCI/CCR Clinical Investigator, Attending Physician, Principal Investigator

Research Focus:
Dr. Kazandjian is a hematologic oncologist and clinician-scientist whose clinical research focuses on multiple myeloma and its precursor plasma cell dyscrasias (monoclonal gammopathy of unknown significance (MGUS) and smoldering myeloma). Dr. Kazandjian has a particularly strong interest in identifying high risk smoldering myeloma patients who may benefit from early treatment strategies and the development of early-interventional clinical trials targeting this important patient population. In addition, his translational research interests lie in the development of modern and novel laboratory techniques including next generation sequencing (NGS) to advance monitoring of minimal residual disease (MRD) and the immune cell repertoire during treatment.
years treating myeloma: 10
Number of Myeloma Patients Treated Annually: 100
---
Details & contact info
8900 N Kendall Dr
Miami, FL, United States, 33176
Phone: 301-480-0532