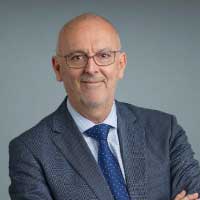 Gareth Morgan, MD, PHD, FRCP, FRCPATH
Position:
Member of the Faculty, Department of Medicine Director, Multiple Myeloma Research Perlmutter Cancer Center

Research Focus:
Gareth Morgan, M.D. FRCP, FRCPath, Ph.D, Professor of Medicine, is the Director of the Myeloma Institute at UAMS. He is also the deputy director of the Winthrop P. Rockefeller Cancer Institute at UAMS. Dr. Morgan came to UAMS from The Royal Marsden NHS Foundation Trust and The Institute of Cancer Research in London where he was a Professor of Haematology and Director of the Centre for Myeloma Research.
years treating myeloma: 41
Number of Myeloma Patients Treated Annually: 400-450+
---
Details & contact info
1st Avenue Kips Bay Manhattan
New York City, NY, United States, 10016
Phone: 501-258-6723