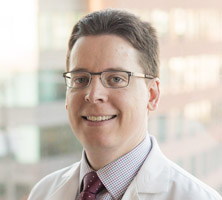 David Coffey, MD
Position:
Acting Instructor, University of Washington School of Medicine

Research Focus:


Philosophy
I strive to deliver compassionate care of the highest quality to each of my patients. My treatment recommendations are based on the best available research and are tailored to each of my patients according to their unique values and preferences.

Clinical Expertise
Multiple myeloma, Waldenström macroglobulinemia, AL amyloidosis, smoldering myeloma, plasmacytoma, POEMS syndrome and plasma cell leukemia.
years treating myeloma: 5
Number of Myeloma Patients Treated Annually: 50
---
Details & contact info
825 Eastlake Avenue East Eastlake Capitol Hill
Seattle, WA, United States, 98109
Phone: (855)-557-0555