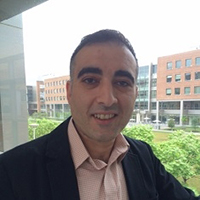 Dickran Kazandjian, MD
Position:
Professor of Medicine

Research Focus:
Dr. Kazandjian's clinical and translational research interests lie in the treatment of precursor plasma cell disorders including high risk smoldering multiple myeloma and the role of immunotherapy in plasma cell dyscrasias. In addition, he is re-evaluating the role of autologous stem cell transplant (ASCT) in the era of highly efficacious novel-novel drugs, immunotherapy biologics, and cell-based therapies with the hypothesis that certain subsets of patients with myeloma may not benefit by default upfront ASCT. His groups' translational laboratory investigations aim to identify key differences in these patient subsets to include not only identifying somatic aberrations but also variations in the immune system/response and micro-environment. Additionally, he was instrumental in the development of a collaboration between the NCI/CCR, FDA, Johns Hopkins University, Memorial Sloan Kettering, and University of Miami to develop an NGS lab at the FDA to help support clinical trial translational and regulatory research. Dr. Kazandjian works on understanding the molecular biologic underpinnings of the racial differences in incidence, age of onset, and clinical outcomes that exist in multiple myeloma. He was awarded an intramural FDA funding grant to characterize - molecularly - the racial disparity observed in myeloma. He is conducting this in collaboration with Memorial Sloan Kettering Cancer Center. His efforts continue in South Florida to clinically and biologically characterize this unique patient population.
years treating myeloma: 13
Number of Myeloma Patients Treated Annually: 400
---
Details & contact info
Sylvester Comprehensive Cancer Center

1475 NW 12th Ave
Miami, FL, United States, 33136
Phone: 301-480-0532