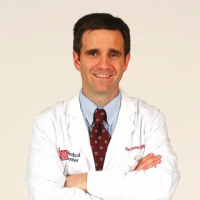 Don M. Benson Jr., MD, PHD
Position:
Associate Professor of Clinical Internal Medicine and Education Coordinator, Division of Hematology. Clinical interests include Multiple Myeloma, Amyloidosis, Blood and Marrow Transplantation.

Research Focus:
Dr. Benson's research focus includes the study of immunotherapy in multiple myeloma including Natural Killer (NK) cell biology and immunotherapy targets including PD-1 and PDL-1.
years treating myeloma: 10
Number of Myeloma Patients Treated Annually: 200-500
---
Details & contact info
The Ohio State University Comprehensive Cancer Center

The Ohio State University 1585 Westpark Street Fifth Avenue and North High Historic District
Columbus, OH, United States, 43210
Phone: 614-293-3196