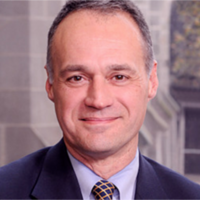 Michael R. Bishop, MD
Position:
Professor of Medicine Director, Hematopoietic Stem Cell Transplantation Program

Research Focus:
Michael R. Bishop, MD, specializes in the diagnosis and treatment of lymphomas and leukemias. In particular, he cares for patients with hematologic malignancies that have not responded to first-line treatments. An expert in hematopoietic stem cell transplantation (bone marrow transplantation), Dr. Bishop and his team are working to address the unique social, economic, physiological and biological issues that patients face while undergoing this treatment. Dr. Bishop's research focuses on the prevention and treatment of relapse after stem cell transplantation. Relapse is the primary cause of treatment failure and death after stem cell transplantation. He has served as the primary investigator on studies designed to prevent and treat disease recurrence after transplantation. Specifically, he works on ways to enhance immune effects of the transplanted cells against cancer.
years treating myeloma:
Number of Myeloma Patients Treated Annually:
---
Details & contact info
The University of Chicago Medicine

Rubloff Intensive Care 5841 South Maryland Avenue Woodlawn
Chicago, IL, United States, 60637
Phone: (773) 702-9297