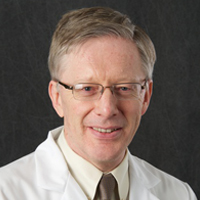 Guido Tricot, MD, PhD
Position:
Attending Myeloma Physician

Research Focus:
Dr. Tricot is a myeloma specialist originally from Belgium and began his career at UAMS where he was intimately involved in developing and pioneering the Total Therapy Approach to myeloma involving induction chemotherapy, stem cell transplantation consolidation, and maintenance. This treatment method has been adopted worldwide and has been responsible, together with the introduction of novel drugs, for the greatly improved median survival rate for myeloma exceeds 10 years, with some patients achieving cure. The UAMS program in 2007 when Dr. Tricot left was the largest myeloma program in the world.
years treating myeloma: 27
Number of Myeloma Patients Treated Annually: 600
---
Details & contact info
University of Arkansas Medical Sciences

West Markham Street
Little Rock, AR, United States, 72205
Phone: 501-686-8230