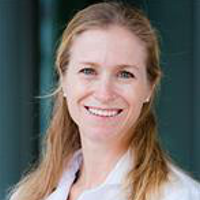 Caitlin Costello, MD
Position:
Assistant Clinical Professor of Medicine University of California, San Diego

Research Focus:
As a member of the Division of Blood and Marrow Transplantation, Dr Costello is dedicated to providing excellent care for patients with a variety of hematologic malignancies, with a specific focus in lymphoproliferative disorders and bone marrow transplantation. Dr. Caitlin Costello's research interests focus particularly on the refinement of the management and treatment of multiple myeloma. She is dedicated to conducting clinical trials with novel agents and treatment strategies to expand the therapeutic options for patients with multiple myeloma. As we enter the age of personalized medicine, Dr. Caitlin Costello is principally interested in developing treatment strategies that are specific to the most finite genetic and molecular details of each individual patient's disease.
years treating myeloma:
Number of Myeloma Patients Treated Annually:
---
Details & contact info
Medical Center Drive La Jolla Colony
San Diego, CA, United States, 92039
Phone: 858-822-6600