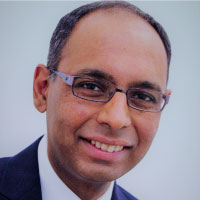 Rakesh Popat, BSc, MBBS, MRCP, RCDPath, PhD
Position:
Consultant Haematologist and Associate Professor

Research Focus:
Dr Popat has a major national role in the development and delivery of clinical research for myeloma. He leads the Myeloma Clinical Trials Program at UCLH and is the Cancer lead for the NIHR UCLH Clinical Research Facility. He has particular experience with novel treatments including immunotherapies such as CAR-T cell therapy and new antibody approaches. Dr Popat is on the leadership board of the UK Myeloma Forum, the vice-chair of the UK Myeloma Research Alliance and on the young board of the European Myeloma Network. In addition, he is the Haematology lead for the North Thames Clinical Research Network. His PhD research was in novel treatments for Myeloma and was awarded a Fellowship to attend the Dana Farber Cancer Institute, Boston USA as part of this.
years treating myeloma: 17
Number of Myeloma Patients Treated Annually: 100
---
Details & contact info
University College London Hospital

250 Euston Road, London
London, UK, United Kingdom, NW1 2PG
Phone: 0203 447 8028