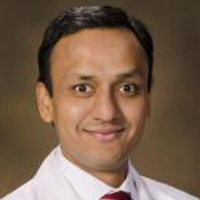 Amit Agarwal, MD, PHD
Position:
Dr. Amit Agarwal is an Assistant Professor of Medicine at the University of Arizona Cancer Center. He is board certified in Hematology and Oncology and his clinical and research interest is focused on hematological malignancies especially plasma cell disorders including multiple myeloma.

Research Focus:
My clinical focus involves the study and treatment of hematological or blood cancers. My research efforts are focused on clinical and translational research on multiple myeloma and related hematological cancers.
years treating myeloma: 3
Number of Myeloma Patients Treated Annually: 100-150
---
Details & contact info
University of Arizona Cancer Center

3838 N Campbell Ave
Tucson, AZ, United States, 85719
Phone: (520) 626-0662