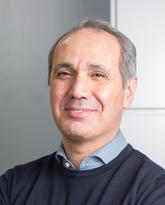 Nizar Jacques Bahlis, MD
Position:
Associate Professor of Medicine

Research Focus:
Dr. Nizar Jacques Bahlis is an associate professor at the Arnie Charbonneau Cancer Institute, Cumming School of Medicine, University of Calgary. He is also a member of the Divisions of Hematology and Medical Oncology. Dr. Bahlis received his medical degree from St Joseph University – French Faculty of Medicine in Beirut, Lebanon. He then completed his internal medicine residency at the State University of New York in Syracuse, followed by a hematology-oncology fellowship at the University of Miami, FL. He also completed a postdoctoral fellowship in cancer biology at the University of Miami. Dr. Bahlis' laboratory research focuses on the study of plasma cell dyscrasia, with a particular interest in multiple myeloma genomics, mechanisms of drug resistance and the development of novel therapeutics. He has received several awards and research funding from numerous agencies, including the ASCO Young Investigator Award, the Multiple Myeloma Research Foundation, The Leukemia and Lymphoma Society of Canada, the Terry Fox Foundation, the National Institutes of Health, and the Canadian Institute of Health and Research. His research has been published in many peer-reviewed journals, including NEJM, Lancet, Blood, Molecular Cancer Research, and Clinical Cancer Research.
years treating myeloma:
Number of Myeloma Patients Treated Annually:
---
Details & contact info
University of Calgary Arnie Charbonneau Cancer Institute

3280 Hospital Dr. NW
Calgary, Canada, Canada, T2N 4Z6
Phone: 403-944-1880