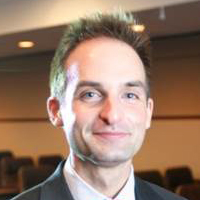 Bruno Paiva, PHD
Position:
Steering Committee Member University of Navarra, Pamplona, ES

Research Focus:
Bruno Paiva is a research fellow at the Departments of Hematology and Immunology at the Clinica Universidad de Navarra (CUN) and Centro de Investigaciones Medicas Aplicadas (CIMA), Pamplona, Spain. He is also Director of the Flow Cytometry Core, and Scientific Coordinator of CIMA LAB diagnostics, the Laboratory Diagnostic Core of the University of Navarra.

Dr. Paiva's doctoral thesis focused on the value of multiparameter flow cytometry for immunophenotyping of plasma cells in Multiple Myeloma ( MM ) patients. His main focus is on improving the differential diagnosis, risk stratification, and monitoring of patients with hematological malignancies, but also acute leukemias and lymphoproliferative disorders.

Dr. Paiva graduated in Pharmaceutical Sciences from the University of Coimbra, Portugal, in 2007 and then trained with Professor Alberto Orfao, focusing on acute myeloid leukemia. He completed his PhD in 2011 working in the in the laboratory of Professor Jesús F. San Miguel at the Hematology Department at the University Hospital of Salamanca.

In 2015 Dr. Paiva was awarded the Bart Barlogie Young Investigator Award in recognition of his outstanding research in the field of MM. In the same year, he also received the Future Leaders in Hematology Award, one of the Celgene Awards for Clinical Research in Hematology.
years treating myeloma:
Number of Myeloma Patients Treated Annually:
---
Details & contact info
Clínica Universidad de Navarra Avenida Pío XII 36
PAMPLONA, Spain, Spain, 31008
Phone: (+34) 948 194 700