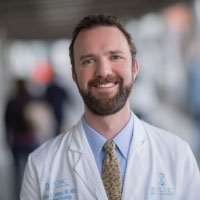 Sascha A. Tuchman, MD, MHS
Position:
Director, Multiple Myeloma and Amyloidosis Program.
Associate Professor, University of North Carolina – Chapel Hill Comprehensive Cancer Center

Research Focus:
Dr. Tuchman spends half of his time caring for patients with multiple myeloma and other plasma cell disorders, and the other half of his time performing clinical research. His specific research interests include 1) investigating therapeutic approaches for patients who are vulnerable to toxicity from therapy due to advanced age or other medical problems, 2) novel therapies including immunotherapies such as chimeric antigen receptor – T cells (CAR-T), and 3) therapeutic approaches to rarer myeloma-related conditions such as amyloidosis. Dr. Tuchman is an active member of expert groups such as the International Myeloma Working Group, his work has been supported by NIH, foundation and industry grants, and he is widely published in leading oncology and hematology journals.
years treating myeloma: 12
Number of Myeloma Patients Treated Annually: 100 new patients per year, 1000+ return patients per year
---
Details & contact info
University of North Carolina – Chapel Hill Comprehensive Cancer Center

Chapel Hill
Chapel Hill, NC, United States, 27514
Phone: 919-966-3856