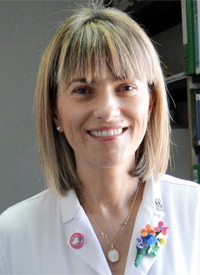 Maria-Victoria Mateos, MD, PHD
Position:
Associate Professor of Medicine University of Salamanca Salamanca, Spain

Research Focus:
Dr. María-Victoria Mateos received her medical degree from the University of Valladolid in Spain and completed her residency in hematology at the University Hospital of Salamanca, where she also completed a doctoral degree. She is a consultant physician in the Hematology Department and Associate Professor of Medicine at the University of Salamanca, Spain. In addition, she is the Director of the Myeloma Program and coordinates the Clinical Trials Unit in Salamanca's University Hospital Hematology Department. Dr. Mateos is a member of the International Myeloma Working Group (IMWG), International Myeloma Society (IMS), and has served on the European Hematology Association (EHA) Scientific Program Committee and Advisory Board, and the American Society of Hematology (ASH) Scientific Committee on plasma cell diseases. She is a Councillor on the EHA Board, a member of the Steering Committee for the Society of Hematologic Oncology (SOHO), the International Myeloma Society(IMS) board, and the European School of Haematology (ESH) Scientific Committee. In addition, Dr. Mateos serves as coordinator of GEM (Spanish Myeloma Group), with direct involvement in the design and development of clinical trials. She has coordinated many clinical trials in elderly and smouldering multiple myeloma patients that have profoundly influenced current options for treating these patient populations. Dr. Mateos has published over 140 papers in peer-reviewed international journals, some of which have become key references in the multiple myeloma field. She is associate editor of myeloma in Annals of Haematology, and is a reviewer for journals such as The New England Journal of Medicine, Lancet, and Lancet Oncology.
years treating myeloma:
Number of Myeloma Patients Treated Annually:
---
Details & contact info
Hospital Clínico Universitario de Salamanca Paseo de San Vicente 58-182
Salamanca, Spain, Spain, 37007
Phone: 34 923 09 04 70