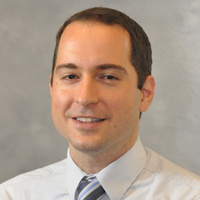 Nicholas Burwick, MD
Position:
Assistant Professor of Medicine
Division of Hematology
University of Washington School of Medicine

Research Focus:
My research interest is in studying quality of care and clinical outcome measures in MGUS and multiple myeloma patients. These interests include e-consultation, bone health, vitamin D, MGUS and CKD, and MGUS surveillance and practice patterns.

Current Clinical Interests
I currently see a broad mix of benign and malignant hematology at the Puget Sound VA and also attend on the Bone Marrow Transplant Unit. I have a particular interest in plasma cell dyscrasias, including MGUS, Multiple Myeloma, Waldenstrom's and Amyloidosis.
years treating myeloma: 4
Number of Myeloma Patients Treated Annually: 0-50
---
Details & contact info
M/S S111-ONC
Seattle, WA, United States, 98108
Phone: (206) 764-2036