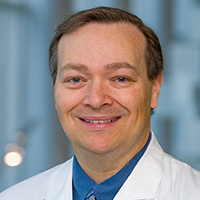 Larry Anderson, MD, PHD
Position:
Assistant Professor in UT Southwestern Medical Center's Department of Internal Medicine, Division of Hematology/Oncology

Research Focus:
Dr. Larry Anderson specializes in plasma cell cancers and bone marrow transplantation. The only oncologist in North Texas to exclusively treat plasma cell cancers, he sees about 90 percent of the myeloma patients who come to UT Southwestern. He also cares for patients with similar diseases, including Waldenström's macroglobulinemia and amyloidosis.
years treating myeloma: 13
Number of Myeloma Patients Treated Annually: 200-500
---
Details & contact info
UT Southwestern Medical Center

Inner Campus Drive
Dallas, TX, United States, 75235
Phone: 214-645-4673