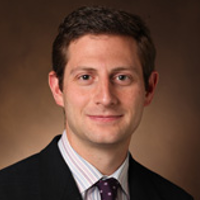 R. Frank Cornell, MD, MS
Position:
Assistant Professor of Medicine (Hematology/Oncology) Hematologist/Oncologist

Research Focus:
Dr. R. Frank Cornell, MD is specializes in the treatment of plasma cell disorders including Multiple Myeloma, Smoldering Myeloma, Monoclonal Gammopathy of Undetermined Significance (MGUS), POEMS syndrome, Amyloid Light-Chain (AL) Amyloidosis, Plasma Cell Leukemia, Solitary Plasmacytoma and Waldenstrom Macroglobulinemia. Dr. Cornell's research focuses on translational and early phase clinical trials for the treatment of multiple myeloma. He also conducts research and clinical trials for relapsed/refractory multiple myeloma and other plasma cell disorders.
years treating myeloma:
Number of Myeloma Patients Treated Annually:
---
Details & contact info
Vanderbilt-Ingram Cancer Center

Pierce Avenue
Nashville-Davidson, TN, United States, 37212
Phone: 615-936-8422