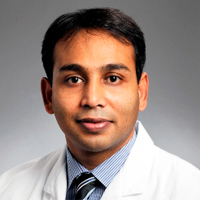 Ajay Nooka, MD, MPH, FACP
Position:
Assistant Professor of Hematology and Medical Oncology at Emory University School of Medicine and a part of the hematology care team at Winship Cancer Institute of Emory University.

Research Focus:
Dr. Ajay Nooka's research interests include integrating genomic and clinical data on a uniform platform and to interpret in a meaningful way to risk-stratify myeloma; and evaluate newer myeloma therapeutic strategies aimed at prolonging survival in myeloma patients. He also focuses on cancer epidemiology.
years treating myeloma: 7
Number of Myeloma Patients Treated Annually: 500+
---
Details & contact info
Winship Cancer Institute of Emory University

Emory University FM Drive Emory Highlands Clifton Druid Hills
DeKalb County, GA, United States, 30322
Phone: (404) 778-1900