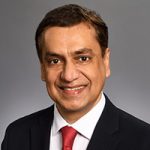 Madhav V. Dhodapkar, MBBS
Position:
Professor and Anise McDaniel Brock Chair, Department of Hematology and Medical Oncology(Emory University School of Medicine), Georgia Research Alliance Eminent Scholar in Cancer Innovation(Emory University School of Medicine), Director of Center for Cancer Immunology( Winship Cancer Institute of Emory University)

Research Focus:
We are interested in studying the biology of the human immune system and how it interacts with growing tumors in patients. We are particularly interested in understanding the tumor and host related factors underlying the transformation of preneoplastic monoclonal gammopathy to its malignant counterpart, multiple myeloma (MM). We are also studying the biology of how human dendritic cells regulate immune responses to different types of antigens. Our goal is to learn to harness the properties of the immune system to detect, prevent and treat cancer, with a particular focus on multiple myeloma.
years treating myeloma:
Number of Myeloma Patients Treated Annually:
---
Details & contact info
Winship Cancer Institute of Emory University

Emory University FM Drive Emory Highlands Clifton Druid Hills
DeKalb County, GA, United States, 30322
Phone: (404) 778-1900