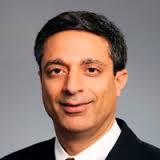 Sagar Lonial, MD, FACP
Position:
Professor and Executive Vice Chair, Department of Hematology and Medical Oncology (Emory University School of Medicine); Chief Medical Officer (Winship Cancer Institute of Emory University)

Research Focus:
Dr. Sagar Lonial has worked in the field of immunotherapy and cancer since his arrival at Emory, and in the previous 3 years has spent time developing the B-cell malignancy program with respect to novel targeted agents in laboratory models as well as early clinical trials. His previous laboratory work has focused on evaluating the impact of purified dendritic cell subsets on the nature of immune responses against antigen, and he has completed several trials evaluating the impact of cytokines on dendritic cell content and post transplant immune recovery.
Most recently, Dr. Lonial has focused on combinations of novel agents as therapy for myeloma and lymphoma, particularly evaluating combinations that may result in synergistic inhibition of the PI3-K/Akt pathway. His lab has recently received funding from the MMRF, the Lymphoma Research Foundation, and The Leukemia & Lymphoma Society.
years treating myeloma:
Number of Myeloma Patients Treated Annually:
---
Details & contact info
Winship Cancer Institute of Emory University

Emory University FM Drive Emory Highlands Clifton Druid Hills
DeKalb County, GA, United States, 30322
Phone: (404) 778-1900