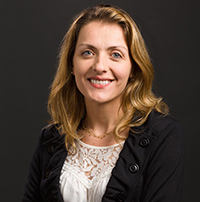 Natalia Neparidze, MD
Position:
Assistant Professor of Medicine (Medical Oncology) at Yale Cancer Center.

Research Focus:
Amyloidosis; Hematology; Leukemia, Plasma Cell; Waldenstrom Macroglobulinemia; Multiple Myeloma; Myeloma Proteins; Paraproteinemias; Neoplasms, Plasma Cell; Smoldering Multiple Myeloma. Clinical trials in multiple myeloma, with specific interests in advanced imaging, tumor heterogeneity and tumor resistance in myeloma, as well as strategies for advancing maintenance therapy, and eradication of minimal residual disease in multiple myeloma.
years treating myeloma: 9
Number of Myeloma Patients Treated Annually:
---
Details & contact info
Smilow Cancer Hospital 20 York Street Dwight
New Haven, CT, United States, 6519
Phone: 203.200.4363