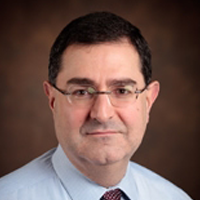 Our Next Show: New Type of Myeloma Treatment Called JSK Moving Forward with Dr. Paul Shami, MD, Huntsman Cancer, Thursday Jan 14 @ 3 pm CST
Thursday, January 14, 1 pm PST, 2 pm MST, 3 pm CST, 4 pm EST Call In by Phone to Listen Live: (347) 637-2631 or Listen Live Via ComputerJSK is the first in its class with a new and unique method of killing multiple myeloma. It has a broad-spectrum anti-cancer activity, especially for myeloma and AML (acute myeloid leukemia) but is not toxic for normal cells. The JSK product is running through the standard approval process and is now in an advanced stage of pre-clinical development. Orphan drug designation has been obtained for myeloma and toxicology studies are now in the planning stages. JSK is active against drug-resistant myeloma cells and could be use with bortezomib or other standard myeloma drugs to treat multiple myeloma.
Dr. Paul Shami, MD is leader of the Acute Leukemia Program at Huntsman Cancer Institute of the University of Utah and Member and Clinical Investigator at HCI. Dr. Shami is on the Clinical Cancer Investigation Committee, the Academic Senate and Faculty Review Committee at the University of Utah in the Department of Internal Medicine.
Dr. Shami is also Founder and Chief Medical Officer of JSK Therapeutics Inc. He reviews publications including Leukemia, Blood, Clinical Cancer Research, Clinical and Laboratory Medicine, Leukemia and Lymphoma, Clinical and Laboratory Haematology, Oncogene, Expert Opinion on Drug Delivery, Cancer, Journal of Pharmacy and Pharmacology, Journal of the National Cancer Institute Editor, Leukemia Research and Treatment. Dr. Shami has received the Leukemia and Lymphoma Society Translational Research Award, the Rapid Access to Intervention Development (RAID) National Cancer Institute award, and the Chairman's citation for outstanding service in the fight against blood cancers from the LLS. Dr. Shami completed his education in Lebanon and his post-graduate work at Duke University.
Thanks to our episode sponsor, Takeda Oncology.

About the Author