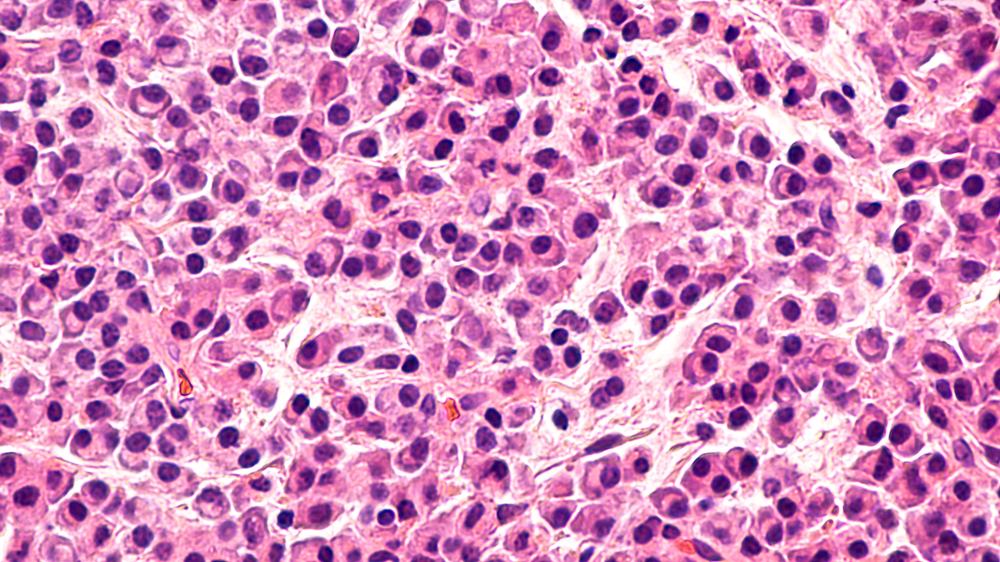 Minimal Residual Disease Negativity Becomes the New End Point in Myeloma Therapy
In a recent ASCO article by French myeloma specialists Jean-Luc Harousseau and Herve Avet-Loisea and colleagues, minimal residual disease looks to become the new standard to measure how effective treatment is for patients. Today in multiple myeloma, complete response (CR) is defined by a negative immunofixation and less than 5% plasma cells in the bone marrow. Stringent complete response (sCR) is an even deeper form of remission, with the addition of serum-free light-chain assessment and immunohistochemical bone marrow evaluation.
Initially, the prognostic impact of CR achievement was a matter of debate. The statistical relationship between CR achievement and a better outcome was mostly seen in patients treated with high-dose therapy (HDT) and autologous stem-cell transplantation (ASCT) because stringent CR and CR were more commonly observed in these patients than in those treated with conventional-dose chemotherapy. However, with the introduction of new agents, CR frequency increased, and it became possible to show the prognostic impact of CR achievement also in patients treated with nonintensive approaches. More recently, combinations of new agents with or without HDT/ASCT, consolidation, and prolonged maintenance therapy not only increased the proportion of patients achieving CR but also the depth of response.
But most patients even in complete response will ultimately relapse, so newer and more sensitive methods are required.Because most patients with CR ultimately experience disease relapse, it was necessary to introduce more sensitive methods to detect and quantify minimal residual disease (MRD) to obtain a better prognostic correlation. A Spanish group pioneered a flow cytometry version of the MRD test and has consistently shown that negative MRD was associated with a better outcome and was superior to complete response in predicting long progression free survival and overall survival, especially in the transplant setting. The technology has evolved from a four-color and even ten-color method, called next-generation flow (NGF). Other MRD types of tests are being developed like the DNA Sequencing base technology. At the same time, a next generation sequencing test (NGS) has been proposed as another way to assess response. In the largest study published to date, a total of 609 patients were enrolled in three separate clinical trials: two for transplant-eligible patients one for elderly transplant-ineligible patients. With almost a 6 year follow-up, they confirmed that MRD negativity was associated with prolonged progression free survival and overall survival.
Importantly, the prognostic impact of MRD negativity was observed both in transplant-eligible and transplant-ineligible elderly patients, meaning that the impact of MRD negativity exists regardless of the treatment used. In addition, although achievement of complete response had no effect among patients with high-risk cytogenetics, MRD-negative patients with high-risk cytogenetics had significantly longer PFS and OS than MRD-positive patients.
New MRD tests can also help determine prognosis for some of the newer treatment strategies. For example, when the anti-CD38 antibody daratumumab was combined with either lenalidomide and dexamethasone or bortezomib and dexamethasone, the probability of achieving MRD negativity was three to five times higher than with the double combinations and was again associated with much longer PFS. Of note, in patients with high-risk cytogenetics, MRD negativity was observed only in patients treated with daratumumab. The authors believe that MRD negativity should be added to criteria for response to treatment assessments to allow uniform reporting of results within or outside of clinical trials with three practical objectives:
To compare myeloma therapy strategies. For example, in a 2009 French trial comparing new agents plus up-front transplant vs. new agents with delayed transplant, the impact of MRD assessment was the same in both groups, but more patients achieved negative MRD in the up-front transplant arm (79% vs. 60%)
To evaluate new treatments more quickly. Typically, new drugs are tested first in relapsed/refractory patients. But if early approval could be given for treatments that achieve high levels of MRD negativity, it would spare myeloma patients from multiple relapses. It could be used as a regulatory end point for drug approval.
To guide treatment decisions. Today knowing which combinations of therapies to use and how to time them for the best possible outcomes is extremely difficult. The MRD negativity outcomes could be added to cost, side effects and other measurements to help weigh outcomes and quality of life issues for doctors and patients. It may also help determine length of therapy. If MRD negativity is achieved early, a shorter treatment period may be appropriate.
The authors state that lingering questions remain:
1) What is the optimal level of MRD detection and, as a consequence, what is the best method? 2) What is the feasibility and the reproducibility of these methods? Can widespread adoption of a standardized test be used? 3) Today MRD tests are done via bone marrow biopsy and MRD assessments should be performed at several time points in treatment. Could the new "liquid biopsy" tests coming to myeloma become relevant? 4) Because myeloma is so different in each patient, MRD assessment may be biased, with a theoretical risk of false-negative results. It can also not detect disease outside of the bone marrow. MRIs may be better for patients with extramedullary disease. 5) Should MRD positivity determine which patients should be treated and if so, how? And how should the optimal number and sequencing of MRD tests should be used for each myeloma therapy strategy or combination?
In conclusion, MRD negativity is a powerful indicator of prolonged PFS and OS. It has already been incorporated in criteria for response assessment and is becoming a new objective for myeloma treatment as well as other hematologic malignancies. Efforts should be made to include NGF or NGS in future trials to better define their optimal use before extending these methods to daily practice.
About the Author