On the final day of ASH there were many presentations of four-drug studies where daratumumab has been added to backbone triplets for newly diagnosed, transplant-eligible patients. Daratumumab is a CD38 monoclonal antibody that binds with the CD38 receptor on myeloma cells.
Here we look at two studies, one that is already generating change in the standard of care for newly diagnosed patients.
Griffin Study
The verdict is in on the Griffin Study: responses get deeper for newly diagnosed patients using daratumumab, lenalidomide, bortezomib and dex (Dara-RVd). Dr. Peter Voorhees, the Principal Investigator of the Griffin study, provided a 22.2 month update on this Phase 2 trial comparing first treatment of bortezomib, lenalidomide and dex (also called RVd) vs. the four drug combo (Dara-RVd).
In the RVd group, patients had RVD, autologous stem cell transplant and then lenalidomide maintenance. In the Dara-RVd group, patients had Dara-RVD, an autologous stem cell transplant and then lenalidomide and daratumumab as maintenance.
The Griffin study had a total of 207 patients and met its primary endpoint of an improved stringent complete response rate by the end of consolidation for Dara-RVD (42.4%) vs. the triplet arm (32%). This improvement was observed in all patient subgroups except for small subsets of ISS stage III or high-risk cytogenetic risk patients. Throughout induction, transplant and consolidation, responses continued to deepen.
After the stem cell transplant and consolidation, patients who achieved complete response and were measurable disease negative (MRD) included 59% of patients in the Dara-RVd arm vs. 24% of patients in the RVd arm. It is important to note that the study is not mature enough to show an increase in Progression Free Survival, but as Dr. Voorhees pointed out this has been seen in every other study that has compared the addition of daratumumab to a backbone and he does not see why that wouldn't be seen here.
The addition of daratumumab did increase the rate of grade 1/2 upper respiratory infections as were cytopenias (low blood counts).
Most importantly for patients, although the Griffin 4 drug combination has not yet received FDA approval, Winship Cancer Institute of Emory University and Levine Cancer Institute are among "early adopters" of these results and are offering this four-drug combination to their standard-risk newly diagnosed patients.
Below is the Emory treatment algorithm: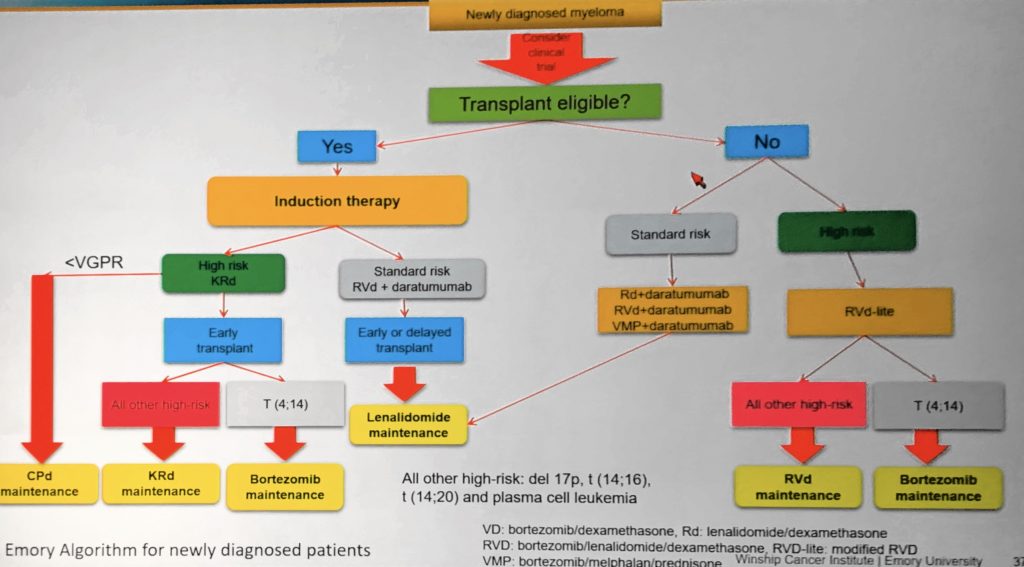 In conclusion, the quad combo including the daratumumab deepened responses and improved response rates and it didn't impact the ability to collect stem cell transplants. Now, the PERSEUS study is studying daratumumab as an under-the-skin shot instead of an IV administration.
Daratumumab with Weekly Carfilzomib Study
Dr. Ola Landgren presented results from a Phase II study using weekly carfilzomib, lenalidomide, dexamethasone and daratumumab combination therapy, which provided unprecedented measurable residual disease negativity rate in newly diagnosed multiple myeloma.
Let's start with the conclusion: Among patients evaluable for the MRD primary end-point, in the absence of a transplant, the MRD negative rate was 77%.
This is a two-arm, Phase II clinical trial based on Simon's optimal two -stage design with Daratumumab plus Kyprolis, Revlimid and dexamethasone (Dara-KRd). All patients received 8 cycles. Both arms use the same dose of Daratumumab, Lenalidomide, Dexamethasone.
One study arm was weekly carfilzomib 20/56mg/m2 schedule. The other study arm was bi-weekly carfilzomib 20/35mg/m2 schedule, Because the weekly arm performed so well and was so much more convenient, the bi-weekly arm was closed after the weekly arm was fully accrued.
Importantly they were able to collect more stem cells if the stem cell collection was completed after 4 cycles of the combination, rather than later on in therapy.
All patients with more than a very good partial response (VGPR) were assessed with measurable residual disease (MRD) testing and targeted DNA sequencing. Almost half (49%) of the patients were High Risk.
And here are the stunning results:
77% (23/30) of the patients were MRD negative at the study end point
97% (34/35) of patients had a complete response or very good partial response or better
Overall response rate was 100% (39/39)!
For patients (24) who completed all 8 cycles of treatment, the results were also impressive:
75% (18/24) of the patients were MRD negative at the study end point
92% (22/24) of patients had a complete response or very good partial response or better
Overall response rate was 100% (24/24)!
And here are the safety and adverse events data.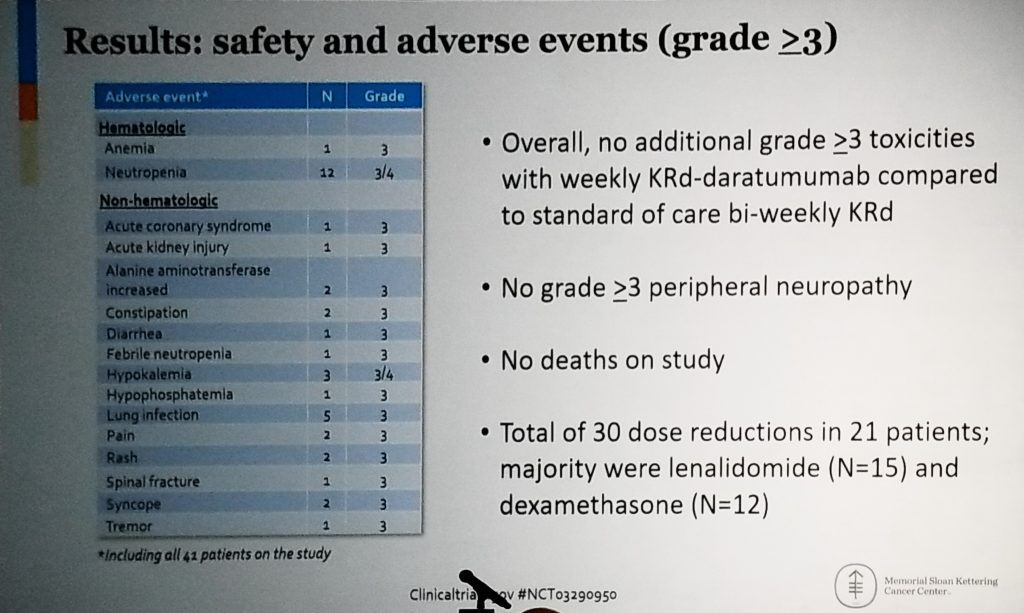 Dr. Landgren completed his talk inviting everyone to do a cross study comparison together, since everyone does this anyway (even though they are not supposed to). He also announced that based on this work, a phase III study will be opening very soon!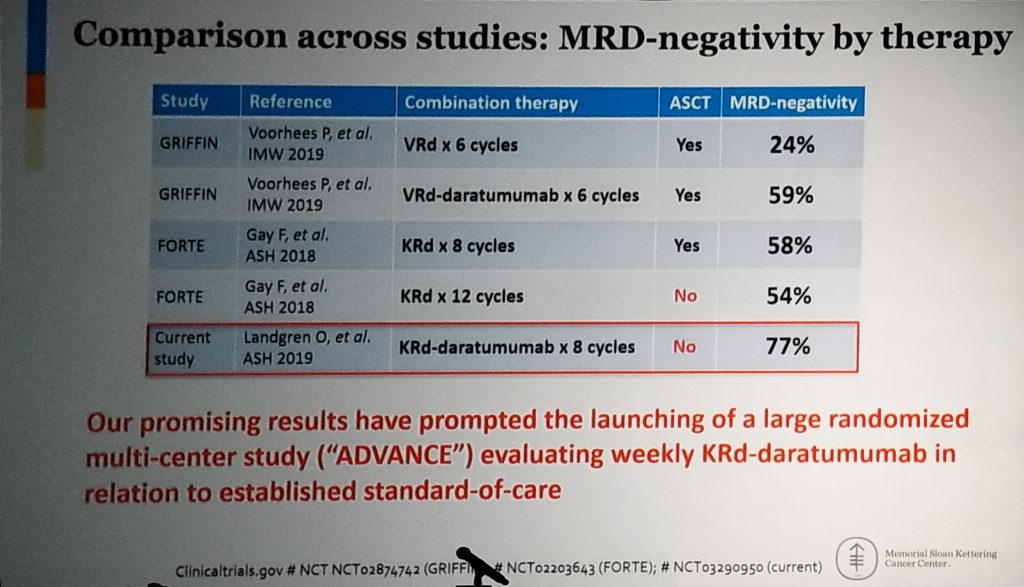 I hope the results of these studies are not only exciting and encouraging for myeloma patients, but they will encourage you to consider participating in a clinical trial. Clinical trials provide access to cutting edge treatments and outstanding care.
Thank you to our Myeloma Coach ASH 2019 sponsors: