There is so much CAR T development happening in myeloma, it's hard to keep track of it all. One of the sessions discussed relapsed and refractory myeloma strategies and almost all of the discussion centered around CAR T.
Siddhartha Ganguly, MD of the University of Kansas shares the importance of CAR T trials and those open at his facility. Because it has been so effective with high responses in even the most heavily relapsed patients, Dr. Ganguly believes that further CAR T treatment development will help overcome its current challenges. CAR T is definitely worth pursuing in multiple myeloma.
Highlights from the Monday ASH session are included below.
Celgene / Bluebird bb2127 CAR T
Jesus Berdejas, MD from Sarah Cannon shared results from the Phase I study of second generation CAR T treatment in development by Celgene/bluebird. The bb2127 product adds a PI3 kinase inhibitor so the CAR T cell can function better for longer tumor control. PI3 is an important signaling pathway for cell growth control. Patients in the study had to have more than 50% of BCMA expression. The study included 38 patients in total who were heavily pretreated and all patients had undergone stem cell transplant. Over 95% of them had received a prior immunomodulator, proteasome inhibitor and CD38 monoclonal antibody.
According to this chart, it looks like the highest dose might be the most effective. In the lowest dose, the median time of response was 11.1 months. In the higher dose, results are a little too early to tell but none of the responding patients have relapsed. All patients with a confirmed response are measureable residual disease (MRD) negative. Longer term CAR T cell persistence was in 8 out of 10 patients at 6 months. Results are still very early on the highest dose, but none of the patients in the highest dosing group have relapsed in the first 6 months.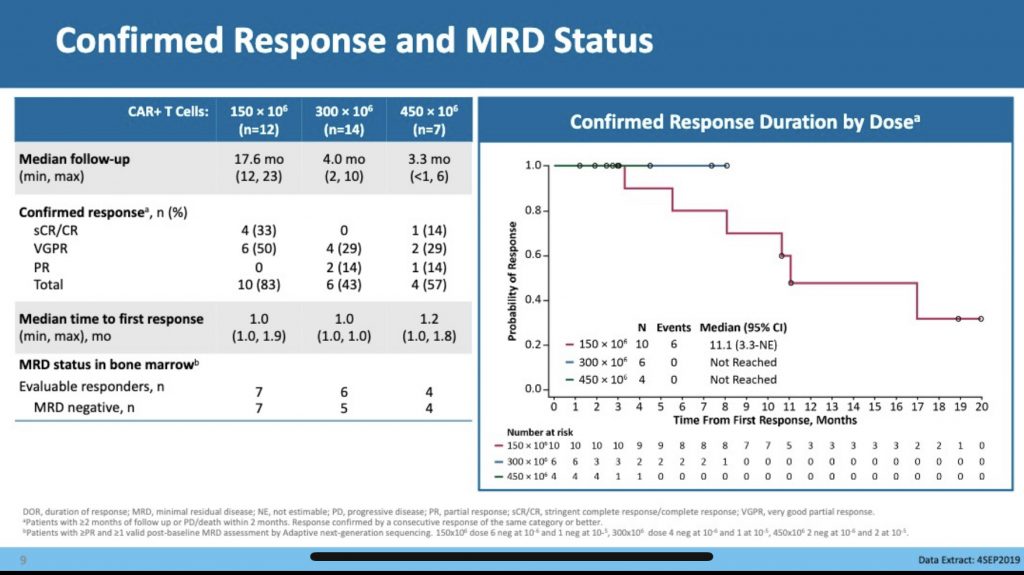 CARTITUDE-1 JNJ-4528
Dr. Enrique Zudaire shared an update on the Janssen 4528 CAR T product. This is a Phase Ib/2 CAR T that was jointly developed with Legend Biotech from China. It targets two parts of the BCMA domain instead of one. The product is also enriched in effector memory T cells. Persistence of the T cells didn't related to the length of responses. Take a look at the chart below. Even though patient #1 lost "detection" of the CAR T cells early, he/she has still been disease free for 14 months. Dr. Zudaire mentioned that 18 out of 28 patients don't have persistent T cells after 3 months. Even though the CAR T cells are "lost", clinical responses seem to deepen over time, so expansion and persistence of CAR T cells are not associated with best response. Researchers noticed that certain memory types could be associated with deeper and more durable responses. Expansion of the cells would peak at different times for different patients.
Dr. Berdejas noted that it didn't matter how much BCMA the patient had before treatment. Twenty seven of the 29 patients had not progressed at a 6 month median follow up.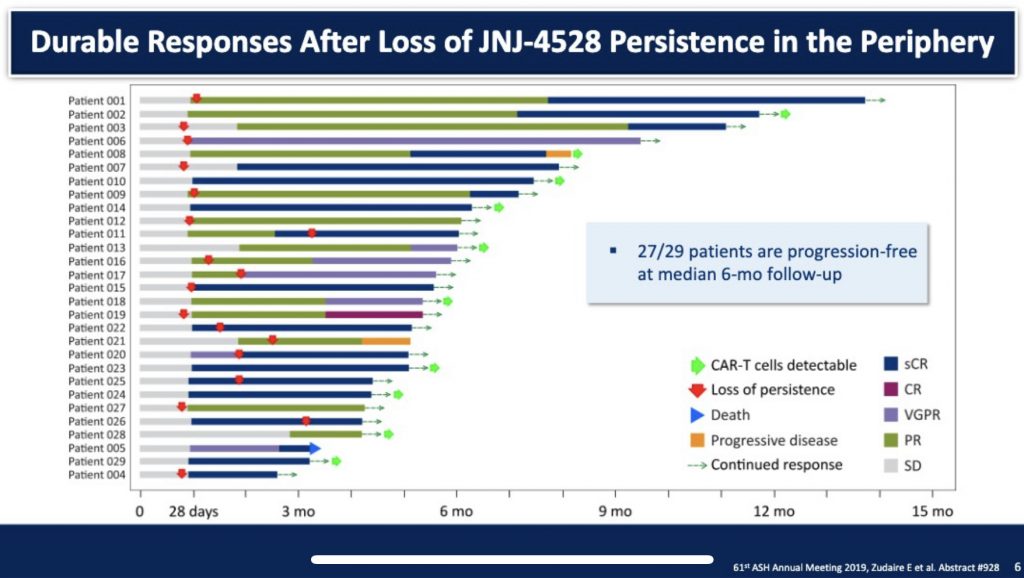 Dual CAR T BCMA and CD38
Chinese researcher Dr. Heng Mei shared work on a CAR T going after two targets at the same time - BCMA and CD38. He believes that the dual strategy makes the BCMA CAR T portion even stronger. In this Phase I study, they were especially watching out for an increase of Cytokine Release Syndrome. They found that 90% of patients had cytokine release syndrome but only 22% of those patients were over Grade 3 in severity. Importantly, there were NO neurotoxicities.
The results were impressive. Out of 22 patients, overall response rate was 90.91% including 12 patients with a stringent complete response, 2 with a very good partial response, 5 with a partial response and 1 with a minimal response. There were 18 patients who became minimal residual disease negative (MRD) negative. Progression free survival at 9 months was 78%.
This validates that a dual CAR T is possible without a considerable addition of toxicity. Finding the best two targets will be key.