An educational symposium entitled "CAR T-Cell Therapy in Lymphoma, Myeloma, and Leukemia- Clinical Updates and Innovations" was presented preceding the 61st American Society of Hematology (ASH) annual meeting and exposition. This symposium was extremely informative and focused on how CAR T-cell therapy, also known as Chimeric Antigen Receptor T-cell therapy, kills cancer. According to David Siegel, MD, PhD, Chief of the Multiple Myeloma Division at John Theurer Cancer Center in Hackensack, New Jersey, CAR T-cell therapy is a form of immunotherapy that is relatively new in the treatment of myeloma. When it is used to treat myeloma, T- cells are removed from the myeloma patient, genetically modified, multiplied, and then returned to the patient to find and kill myeloma cells.
Unfortunately, research on the use of CAR T-Cell therapy in myeloma is considerably behind the use of this type of treatment in lymphoma and leukemia, and it is not yet approved by the Food and Drug Administration (FDA) for the treatment of myeloma. In spite of these drawbacks, CAR T-cell therapy is a cutting edge treatment that offers hope to myeloma patients with advanced disease.
Important concepts concerning CAR T-cell therapy include the following:
100% of multiple myeloma patients express significant levels of B-cell Maturation Antigen (BCMA) on their myeloma cells. Therefore, B-cell Maturation Antigen (BCMA) is a good target in CAR T-cell therapy for myeloma patients.

B-cell Maturation Antigen (BCMA) is a better target in myeloma than CD19, which is used in other blood cancers like leukemia and lymphoma.
CAR T-cell therapy in myeloma has the following limitations:
Myeloma Patients are Not Remaining in Long-Term Remissions Today
This may be due to the following factors:
CAR T-cells disappear relatively early in the treatment of myeloma, and researchers have not determined the cause. Dr. Siegel hypothesizes that patients receiving CAR T-cell therapy have been heavily treated for myeloma, and this may have a negative impact on their response. Dr. Siegel hopes to treat myeloma patients with CAR T-cell therapy earlier in the treatment process, after they have received high-level drugs. For example, if a patient is refractory to Daratumumab, Carfilzomib, and Bortezomib, Dr. Siegel wants to treat them with CAR T-cell therapy. He believes earlier CAR T-cell therapy will lead to longer progression-free survival (PFS) and better overall results.
Another obstacle for using CAR T-cell therapy in myeloma treatment is myeloma cells can populate areas that are not readily accessible, which makes it hard for the CAR T-cells to get to the target B-cell Maturation Antigen (BCMA).
Potential CAR T Cell Therapy Toxicities
Some toxicities are attributed to CAR T-cell therapy in myeloma. These include Cytokine Release Syndrome and Neurologic Events, and the patient needs to be monitored carefully medically.
Symptoms of Cytokine Release Syndrome include fever, tachycardia (a fast heart rate), hypotension (low blood pressure), and hypoxia (low oxygen level).
Neurologic symptoms include confusion, tremor, aphasia, encephalopathy, and seizures.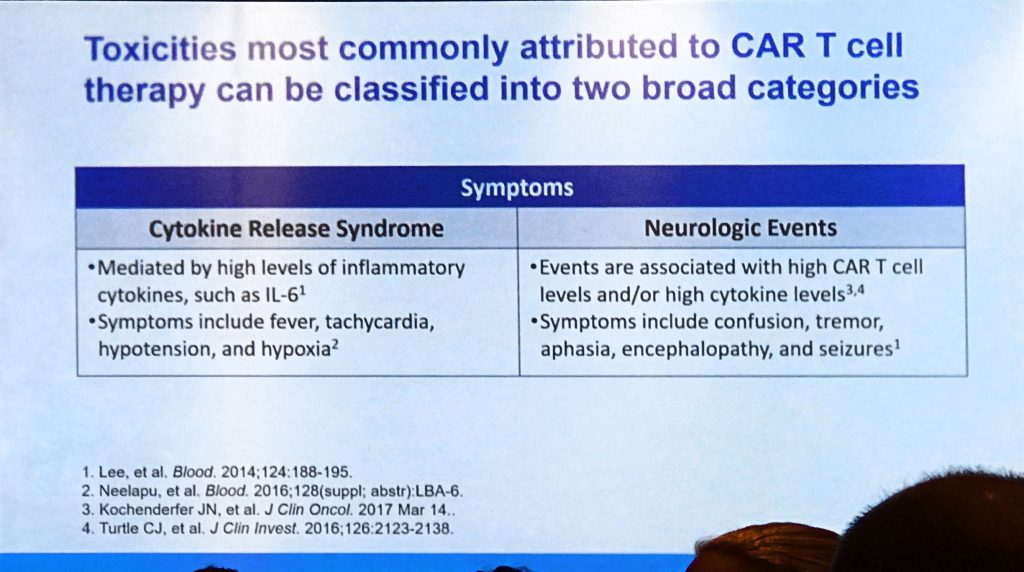 Although significant hurdles remain to be overcome in order to treat myeloma patients more effectively with CAR T-cell therapy, this new approach offers myeloma patients, who are resistant or refractory to treatment and have been heavily treated in the past, a chance for better outcomes. However, more research and clinical studies need to be performed before this exciting, new treatment option can be made widely available to myeloma patients. Clearly, CAR T-cell therapy is not yet perfected, but it is very promising in the field of myeloma.
Thank you to our Myeloma Coach ASH 2019 sponsors: