At a session of the American Society of Hematology meeting, three prominent myeloma specialists discussed a variety of topics for relapsed or refractory multiple myeloma patients.
Cristina Gasparetto, MD, Duke University Medical Center, Peter Voorhees, MD, Levine Cancer Institute and moderator Ravi Vij MD, MBA, Washington University School of Medicine answered key questions that present themselves during the course of myeloma treatment.
The doctors discussed the specifics of making drug choices for patients with various myeloma symptoms and specific pre-treatment regimens. Two things were clear: First, these doctors do not take treatment choices lightly, and secondly, this was not their first rodeo.
Their conversation was learned and technical but here are a few of the many valuable points made.
How often should imaging and biopsies be completed?
PET scans yearly? No. Often PETs done too frequently are not covered by insurance. A PET should be done at diagnosis during staging. Possible reasons for PET scans subsequently might include re-staging with disease progression and monitoring of bone involvement.
Do you do a bone marrow biopsy with every relapse? No. A bone marrow biopsy, especially later in treatment, doesn't change the treatment paradigm that much.
Sometimes, however, a bone marrow biopsy is done to check for cytopenia or to determine whether an 11:14 translocation exists which might indicate the use of Venetoclax.
What medications do you prescribe and when?
Ixazomib (Ninlaro):

used when infusion is difficult for a patient either physically or because of difficulty getting to the infusion center. Ixazomib with Lenalidomide and dexamethazone are an oral combination that works well in these cases.

Elotuzumab: used more often when there is concern about disease progression. Slow progression, probably not.

With faster progression, it would be paired with Pomalidomide. Pace of progression is key. A patient progressing slowly should be treated differently than one progressing at a fast pace.

Carfilzomib:

used for an aggressive relapse or for high risk patients. Some would choose Darzalex before Carfilzomib. But there is not just one right answer.
Panobinostat (Farydak):

possibly used if the patient has not been heavily treated, but not often.

Bedamustine:

Not often but when used it is prescribed monthly.

Selinexor:

prescribed

off label- with weekly dosing rather than the prescribed dosing every two weeks.
Venetoclax:

prescribed

off label for 11:14 patients. (Patients whose bone marrow results show an 11:14 translocation).The Venetoclax, Carfilzomib, & Dexamethasone triplet appears to work well for patients with an 11:14 translocation.

VDT PACE:

If a patient is young and high risk and not able to do a trial it may be used to get them to the next drug approval. It would just be for a short term bridge while the next step is planned. VDT PACE is very difficult. More so even than a transplant.

Iberdomide: The doctors also mentioned some drugs in development including Iberdomide, the next generation "imid" by Celgene which often works even after lenolidomide, pomalidomide and proteasome inhibitors have stopped working.
What about a second
transplant?

Sometimes a salvage transplant is done to get counts better so a patient can get into a study. A second transplant generally does not last especially after multiple lines of therapy.

It seemed clear that the doctors take careful consideration before making treatment choices. This observer was suitably impressed. Another high score for the incredible value of ASH.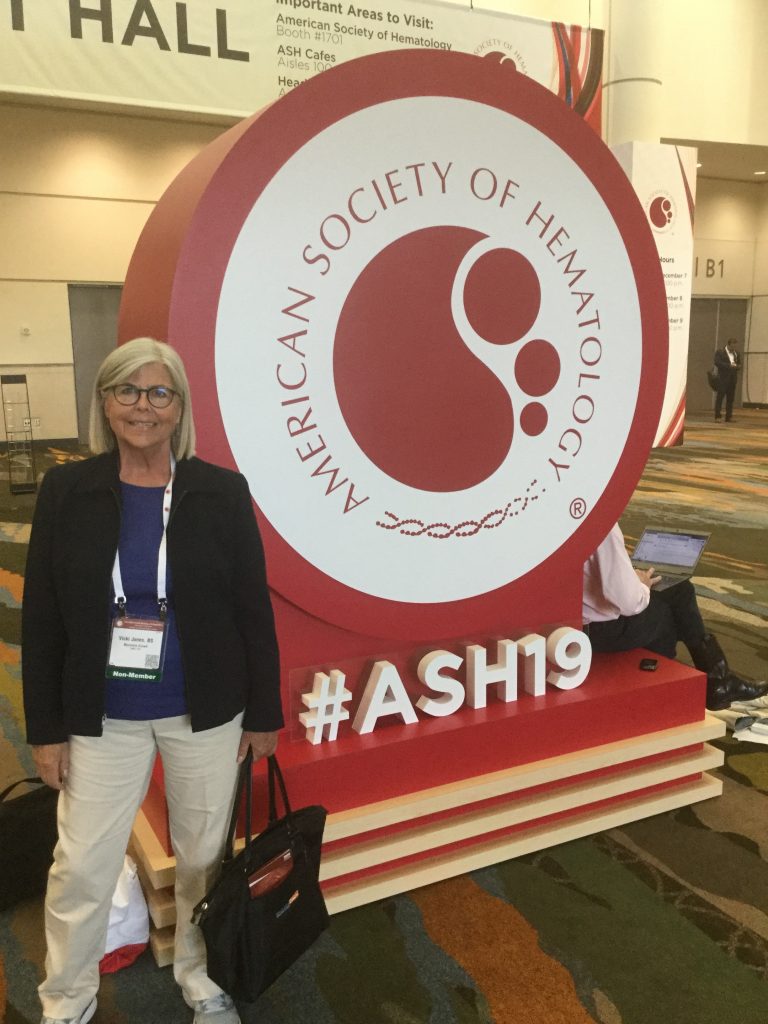 Thank you to our Myeloma Coach ASH 2019 sponsors: