Today begins our Bike the Coast 2019 event, a 600 mile ride from San Francisco to San Diego with multiple myeloma survivor and cyclist Richard Hite. Richard was diagnosed with myeloma in 2015 and decided that myeloma was not going to slow him down. All proceeds will go to support multiple myeloma research.
In celebration, every day Richard rides, we'll be sharing one way you can ride well with multiple myeloma.
Much like preparing for a big race, you need to know your game plan. Your route, necessary gear, proper nutrition, and peer encouragement are all examples of things you should have in order before you jump on that bike in order to have a safe, focused and victorious race.
Your myeloma journey can be thought of preparing for your "big race". You need to know all you can about myeloma, have a treatment plan, live a healthy lifestyle, and get support from those close to you, as well as those who are "registered for your same race".
But what if this is your first race? If you want to really excel, you must train with a proper coach - one who will ultimately give you your best shot at winning In myeloma, this is a multiple myeloma specialist. Specialists are trained specifically in myeloma and treat hundreds of patients annually, while local oncologists treat only a handful of cases per year. Myeloma specialists have better pattern recognition, more experience and deeper knowledge about the disease.
"Over 80% of myeloma patients are seen by community oncologists, but data shows that patients who have a specialist on their team live longer. In fact, if myeloma patients are treated by a myeloma specialist within the first year, a UNC study says they live 38% longer…" –MyelomaCrowd.org
The Mayo Clinic also did a study showing that patients who are treated at centers with more than 10 cases of myeloma live twice as along as those treated at a facility with less than 3 cases per year. That's not surprising because myeloma is a complex cancer to treat. Just imagine what seeing a doctor who treats 300 cases per year can do for a patient's overall survival!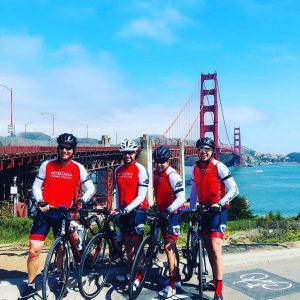 Think of it this way: who would be a better bike race coach your first time around--the guy who wins CrossFit competitions, triathlons, and marathons, or the guy who consecutively wins the Tour de France? If you are looking for a BIKE RACE win, you should probably choose the bike master.
So, who would be better to lead your myeloma treatment team--a general oncologist who treats patients of many different cancers, or a specialist who treats strictly myeloma patients? I think you know the answer.
How do you find a myeloma specialist? Join HealthTree to find the nearest myeloma specialist near you. (If you need further instructions, read this article.)
We'll be cheering Richard on for his ride and you for yours!
Special thanks to our Bike the Coast sponsors: