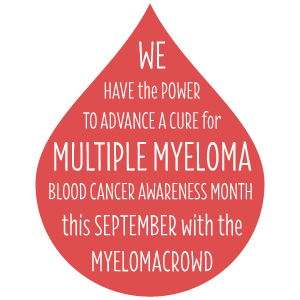 Blood Cancer Awareness Month Tech Tuesday
We have a neighbor that just celebrated her 100th birthday. In June's lifetime, she's seen the invention of the pop-up toaster, electric can opener, jet engine, electric razor, radar, artificial heart, kidney dialysis machine, power steering, LED light, pocket calculator, internet, and iPod. She can Snapchat her great granddaughter's ballet recital, find ancestors 10 generations back online and sell her vintage items on eBay. But June can also help cure a disease. Technology gives us the tools to combine our data to collectively to learn quickly about causes and solutions for disease. In the world of multiple myeloma, there are observational studies being run to collect data in order to find a cure faster. Here are three important studies that are helping researchers learn more about the causes, cures and treatment of myeloma. These are not studies where specific treatments are given. They are just observational studies so that more can be learned about myeloma.
COMPASS Study by the MMRF
The MMRF created a study to track newly diagnosed patients along their myeloma journey. The study looks at the beginning genetics of myeloma once a patient is diagnosed, the treatments given and patient outcomes. The trial included 1,000 patients and recruitment is now closed. The results will help researchers gain more insight about myeloma progression and effective treatments. Thanks to all who participated and we will be anxiously looking for results over the coming years.
Takeda Oncology 5,000 Patient Study
The largest of its kind, Takeda Oncology announced a new global non-interventional, observational multiple myeloma study called INSIGHT-MM to track trends, effectiveness of treatment and patient outcomes. It is now enrolling patients in the United States and will soon be enrolling patients globally. The study aims to enroll 5,000 patients over three years with a goal of following each patient for a minimum of five years in an effort to track patterns in disease presentation, patient characteristics, treatment and outcomes, and thereby enhance the understanding of real world experience of patients with multiple myeloma.
"We have worked with the multiple myeloma community for the benefit of patients for nearly two decades. Given the increased complexity of treatment in recent years, we saw the need to understand treatment patterns and patients' experiences around the world," said Liviu Niculescu, Vice President Global and US Medical Affairs. "With patients and multiple myeloma experts, we designed the innovative INSIGHT-MM trial to be an open source of data – large enough to reveal differences and trends globally. We invite collaborations from other similar studies in order to increase the size of available databases and move us closer to a future when robust data on multiple myeloma enables us change the face of the disease."
To join this study, click here: (Note: only 2 sites are open today but you can tell SparkCures that you want to be notified when the additional sites come online. Shouldn't be too long of a wait) Join the Takeda Myeloma Observational Study
Smoldering Myeloma Study
Dr. Irene Ghobrial of Dana Farber has an open study called PCrowd. She is studying patients who have myeloma precursor conditions called MGUS (monoclonal gammopathy of undetermined significance) and smoldering myeloma. The study is looking at how and when patients progress to active myeloma and whether interventional treatment could cure the disease early before progression. For this study, you do not need to live in the Boston area. You can mail blood samples from your home facility in on a 3-6 month basis. Learn more about this study here and how to join here: PCrowd Observational Trial