BY GREG BROZEIT
"In the audience, I could see and feel memories of my grandparents who had cancer; who were my inspiration to go into medicine. To speak in a church that was just like the church I went to as a child...it really was coming full circle for me." Dr. Craig Emmitt Cole, University of Michigan
Reaching out to underserved cancer patient communities is a lot like the "everybody's talking about the weather" cliché—few do anything about it. Not so with Cheryl Boyce. Cheryl has organized seven annual Hicks Harris Ferguson Multiple Myeloma Symposia (HHF) in Columbus, Ohio.
The most recent, held on March 4, 2017 at Trinity Baptist Church, attracted more than 80 participants. When Cheryl was diagnosed with myeloma more than 19 years ago, she was one of the very few who "knew exactly what [she] had." As the founding director of the Ohio Commission of Minority Health, she was aware that African Americans had significantly higher rates of incidence in virtually every type of cancer.
Through her work, she learned about a little known cancer called multiple myeloma, never thinking how personal it would become. The inspiration to put together a patient education meeting focused on creating fellowship within the African American myeloma community came to Cheryl after being treated at three major centers. She noticed that she never saw another African American patient in the waiting rooms. When she went to Little Rock, Arkansas and finally saw other black patients, she realized, "not one was from the United States," adding, "many African American patients are treated by their primary care physicians, many of whom have little specific knowledge about myeloma."
Cheryl intuitively understood their common experiences mattered and started to think about what it would take organize a patient education meeting. "It is important for them to see and listen to an expert who looks like they do," she insisted, "it helps break down barriers to ask questions and seek treatment from specialists."
Moreover, Cheryl strongly believed every keynote speaker should be an African American hematologist oncologist. Dr. Craig Cole of the University of Michigan, keynoted this year's HHF, the second time he has been featured in that role.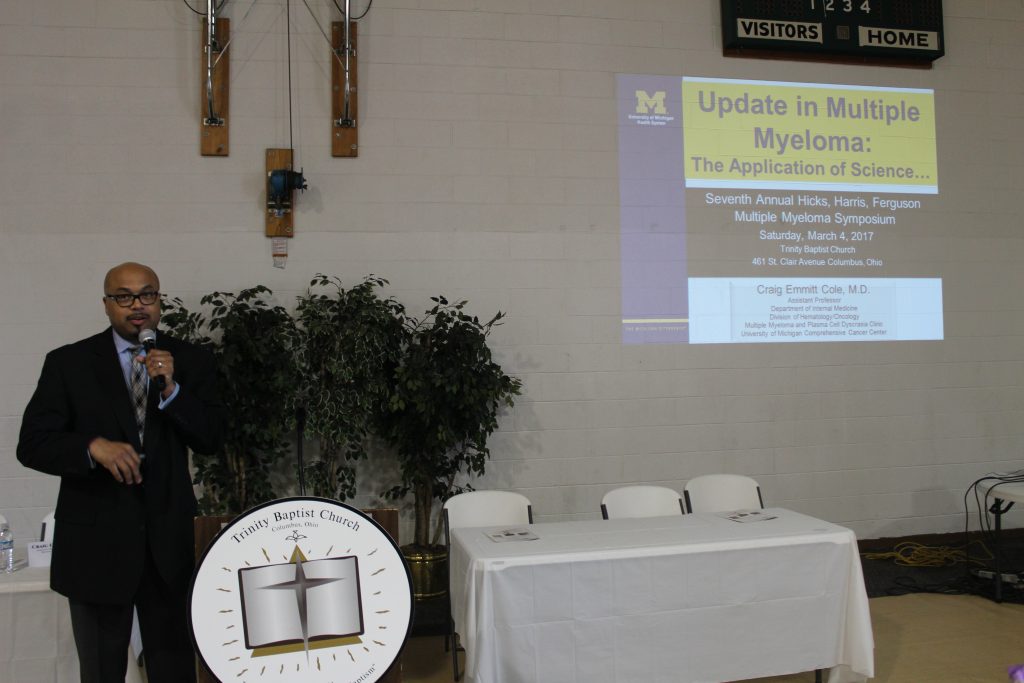 "What a fantastic meeting!" said Dr. Cole, "The audience enthusiastically embraced the message of how to live well with myeloma and about how research and clinical trials have significantly extended lives."
Cheryl's passions are her family, faith, and minority health advocacy. All those parts of her life came together to serve people like her through the Hicks Harris Ferguson symposia. It began when Cheryl became aware of other African Americans in her community who were also myeloma patients.
She believed it was "important to have a face attached" to myeloma outreach. She identified three friends who had myeloma; whose names resonated with the African American community in Ohio.
Mrs. Eleanor Hicks was the wife of Dr. H. Beecher Hicks, one of the most prominent Baptist pastors in the nation. She was also a community activist and a beloved mentor to everyone she touched. Their son, Dr. William Hicks, became a hematologist-oncologist in large part because of her experience. He went on to Ohio State University to train a new generation of clinicians and researchers, including Dr. Cole, who noted, "being introduced by Dr. Hicks, made it such an honor to be there!"
The Rev. Richard Harris served as pastor in a number of African Methodist Episcopal (AME) churches in Ohio. He had an aggressive form of myeloma which did not respond to therapy and led to his very sudden death.
Mrs. Lugenia Ferguson was a Renaissance woman who sang with the great jazz bandleaders Count Basie, Dizzy Gillespie and Sonny Stitt, was a nurse, a missionary, and served as the chair of the Ohio Council of Churches Commission on the Aged. She was also, according to her son Jerome Ferguson, a miracle because she was given two weeks at diagnosis and went on to live for five years.
"As a member of the St. Paul AME church," Cheryl noted, "it also means so much to have the Third Episcopal District as a cosponsor of Hicks Harris Ferguson and especially that Dr. Dorothy Jackson Young, our Episcopal Supervisor, would attend to welcome our audience."
Camisha Chambers, a Hicks Harris Ferguson volunteer and emcee for the meeting, summed up why she keeps coming back:
"We hear so many intimidating things about health care and how people have negative experiences with the system. Programs like Hicks Harris Ferguson provide patients and families so many meaningful resources, support and, ultimately, relief and comfort. There is no way I couldn't be a part of this!" "We operate on a shoestring budget, but we have been blessed that so many members in our extended community see the value in what we do," said Cheryl.
In past years the Columbus-based Multiple Myeloma Opportunities for Research and Education (MMORE), which ceased operations last year, provided the fiduciary responsibility functions. This year the Ohio Federation for Health Equity & Social Justice, assumed that role and Executive Director Ronald Browder was an introductory speaker.
Additional speakers included Dr. Charles von Gunten, a specialist on pain and stress management, Anna Maria Bitten, a dietician with the Ohio State University James Cancer Center (the James), Wayne Rutherford, a financial services coordinator at the James, and Breana Shawver, the Executive Director of the Central Ohio chapter of the Leukemia & Lymphoma Society, who spoke about their patient financial assistance program.