Each year over 30,000 doctors, researchers, patient advocates, and patients attend the American Society of Hematology (ASH) conference. To say it is confusing and overwhelming would be an understatement. There are more than 1925 Oral Abstracts and 4039 Poster Abstracts! How does anyone navigate through the maze to make the best use of their time? The Myeloma Crowd has made it a priority to help you with this effort and has asked many of the most skilled and knowledgable myeloma specialists in the world if they would help us in this effort to navigate through the more than 1000 myeloma abstracts to identify those they feel are the most significant.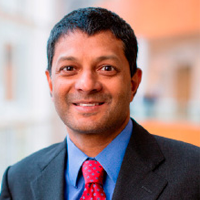 Dr. Rajkumar has contributed in the past during and after ASH, but has been so kind as to provide his choice of the 5 most significant abstracts prior to the meeting, why he chose them, and when and where ASH visitors can see the oral presentations. Dr. Vincent Rajkumar is Professor of Medicine at the Mayo Clinic in Rochester, Minnesota. His research focuses on clinical, epidemiological, and laboratory research for myeloma and related disorders
.
Dr. Rajkumar has a great resume, list of accomplishments, and honors that are second to none in the myeloma specialist community. You can view his bio if your
click here.
#1 CC-93269, an asymmetric 2-arm humanized IgG T-cell engager that binds bivalently to BCMA and monovalently to CD3ε is highly active in refractory myeloma
Comments: At a >=6mg dose (not yet the maximum tolerated dose) we are seeing a greater than 80% response rate.
Saturday, December 7, 2019: 10:30 AM
Hall E1, Level 2 (Orange County Convention Center)
#2 Two abstracts highlighting problem of racial disparity in myeloma. Blacks much less likely to receive Stem Cell Transplant & Lenalidomide. If access is provided, they have better survival.
Sunday, December 8, 2019: 10:00 AM
W314, Level 3 (Orange County Convention Center)
Sunday, December 8, 2019: 8:30 AM
W307, Level 3 (Orange County Convention Center)
#3 Great data showing double & triple hit myeloma has Progression Free Survival of only 2 years despite current therapy and shows we need to target and overcome this early in the disease course.
Monday, December 9, 2019: 7:45 AM
Sunburst Room (W340) (Orange County Convention Center)
#4 Novel CAR-T targeting both BCMA and CD38. Impressive clinical data already in Phase I. We need these type new approaches for more durable effect from CAR-T.
Monday, December 9, 2019: 7:30 PM
Valencia A (W415A), Level 4 (Orange County Convention Center)
#5 A great individual patient data meta analysis of auto-auto vs. auto-allo in myeloma. Shows Progression Free Survival and Overall Survival benefit of allo for young patients— but no Overall Survival benefit in high risk patients which is where we have considered using allo.
Saturday, December 7, 2019: 2:00 PM
W307, Level 3 (Orange County Convention Center)
Thank You Dr. Rajkumar for your continued efforts to support the myeloma patient community and your efforts to assist all of us to find the most significant ASH 2019 myeloma abstracts. We will continue to provide this information from other myeloma specialists as their choices become available. Myeloma Crowd hopes this effort will provide an improved ASH 2019 myeloma experience