Multiple myeloma is a rare blood cancer with over 30,000 newly diagnosed patients annually in the U.S. This March, in honor of Myeloma Awareness Month, the Myeloma Crowd is raising funds for myeloma research at individual myeloma academic centers throughout the United States. Muscles for Myeloma is a 60-day fitness challenge that you, your friends and family can join to get fit. It's perfect timing to get your fitness program established before summer hits! Join the program with your nearest myeloma facility's team. As you invite your friends and family to sponsor you to reach your fitness goal, you'll also be supporting your facility's myeloma research. Proceeds from each "team" will be donated to each myeloma academic center's myeloma research. Current teams include:
MD Anderson Cancer Center, TX
Dana Farber Cancer Institute, MA
Massachusetts General Hospital, MA
University of Iowa, IA
Huntsman Cancer Institute, UT
The Ohio State University, OH
City of Hope, CA
Duke University, NC
Levine Cancer Institute, NC
University of Michigan, MI
Washington University/Siteman Cancer Center, MO
Memorial Sloan Kettering Cancer Center, NY
Mt. Sinai, NY
Hackensack University/John Theurer Cancer Center, NJ
UPENN/Abramson Cancer Center, PN
Mayo Clinic Rochester, MN
Mayo Clinic Scottsdale, AZ
UCSF, CA
UAMS Myeloma Institute, AK
Johns Hopkins School of Medicine, MD
University of Kansas Cancer Center, KS
Don't see your team? Email us at info@crowdcare.org and if it's a major myeloma academic center, we'll add it for you.
How much could we raise for myeloma research nationally? That's up to YOU! The program begins March 1 and is open until April 30. To register, click here: Register Today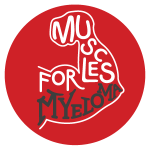 Thanks to our Muscles for Myeloma sponsors: