BY DANA HOLMES
Plasma cells are a type of white blood cell made in the bone marrow, which are responsible for making antibodies that help protect us from infection.
MULTIPLE MYELOMA is the second most common blood cancer, although it is not well known to the general public. Approximately 60,000 people in the United States have multiple myeloma and more than 20,000 new cases are diagnosed each year. Worldwide, more than 210,000 people are living with multiple myeloma and approximately 100,000 new cases are diagnosed annually.
For new patients, as well as those living with the disease for years, myeloma is life changing. The symptoms are real and ongoing: bone pain, extreme fatigue, nausea, numbness in the hands and/or feet, kidney problems and infections. Infections can be life threatening.
Myeloma has been identified as having one of the highest rates of delay in diagnosis. Spreading awareness can help improve this. Earlier detection can prevent some of the most debilitating effects this cancer causes.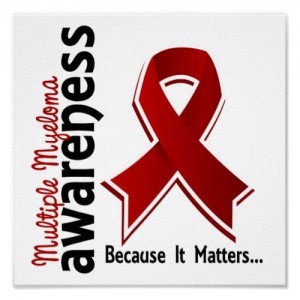 Awareness is key for a rare disease. Awareness of multiple myeloma matters. March is the official Multiple Myeloma Awareness month and we believe we need to also continue to spread awareness throughout the entire year. So please help us by sharing this article and our Mambo for Myeloma Awareness Community Facebook page with your family and friends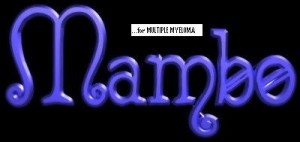 .
By raising awareness, we also begin to build a bridge to raise critical funding for research. Those who are aware of a disease will be more inclined to donate to a cause and fundraise for the disease.
Here is a short video asking the question "What is myeloma?" It features everyday people being asked that question. It also features patients explaining a little bit about myeloma and a doctor with a medical explanation of myeloma. It was produced by the Central Coast Myeloma Support Group-NSW-Australia.
View a short film about Multiple Myeloma Awareness from Myeloma UK here.
Dr. Morie Gertz of the Mayo Clinic in Rochester, Minnesota explains the basics of multiple myeloma here or a shorter version here.
How is Multiple Myeloma Diagnosed?
Published on Oct 31, 2013
Dr. Robert Orlowski from MD Anderson Cancer Center discusses a variety of tools used in diagnosing myeloma. Dr. Orlowski explores symptoms of the disease that are utilized in diagnosis, including anemia, bone fractures, bacterial infections—and how symptoms may differ among patients. He explains initial diagnosis of myeloma through a blood test known as serum protein electrophoresis (SPEP) and via urine collection, X-ray and patient intuition. Dr. Orlowski explains that myeloma is not easily detected through routine physicals, therefore he feels that it is important for patients to be vocal about their concerns. Click here to watch the video.
Here are some great articles written by Gary R. Petersen, who is a myeloma survivor and patient advocate. His work centers around helping patients live longer by helping them to find facilities who are beating the average survival statistics. You can find Gary's site at and follow him on Twitter at @grpetersen1
Support Groups Can Educate But They Can Also Improve Life!
For more information about Multiple Myeloma or to donate to the myeloma research foundations/organizations, please visit: