September is Blood Cancer Awareness month and time to focus on how some myeloma patients are developing Muscles for Myeloma. Staying fit is critical for your best myeloma outcomes. Every patient will be different in what they can do, so talk with your doctor, listen to your body and stay as active as you possible can based on your unique situation.
By Pamela Loomis
Pamela's husband was sick with sepsis and was back and forth between the hospital and nursing home for 60 days. She wanted him to be able to get around their home easily with his new walker, so she began to move furniture around. Suddenly she tripped over a rug and immediately thought she sprained her arm. The pain kept getting worse, so Pamela went to her doctor for x-rays.
Her doctor called her with the news--she had multiple myeloma.
Since her myeloma diagnosis, her physical activity has been significantly impacted. She now walks with a cane, and some days can barely even do that. Most of her pain is in the legs, hips, feet and back.
Although Pamela has setbacks, she knows what helps her most. 'I keep on top of it by increasing my knowledge so I can be my best advocate. This has proved very helpful. I have changed my eating habits to healthy cooking," --Pamela L.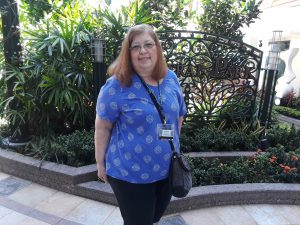 Staying active for Pamela means getting up early and try to live a normal life.
"I love gardening. I do know that whatever I do, I will be down for two days after. That's okay...new normal. I love traveling and seeing and experiencing new cultures. While I can't walk as far now, I still try. What hasn't worked was expecting too much of myself.

"I recently did the longest yard sale. I didn't get very far and it took about 8 hours but I did it!"
We can learn from Pamela's example of pursuing her hobbies with a myeloma diagnosis. Gardening is something she enjoys, and also gets her outside and provides some mild activity that she feels comfortable doing. Being active doesn't always have to be running, biking, swimming, or even walking. It can be something as simple as gardening or throwing a ball for your dog. Don't overcomplicate it, and start small!
Above all, staying positive is a saving grace with a myeloma diagnosis. Pamela denotes this to her faith in God, her family, and her friends.
"Negative is not in my vocabulary but even if it happens, I get back up."
Thanks to our Muscles for Myeloma sponsors: