September is Blood Cancer Awareness month and time to focus on how some myeloma patients are developing Muscles for Myeloma. Staying fit is critical for your best myeloma outcomes. Every patient will be different in what they can do, so talk with your doctor, listen to your body and stay as active as you possible can based on your unique situation.
Nicole was first diagnosed with myeloma as the result of a seemingly unrelated health issue. She was diagnosed with scoliosis, which is a sideways curvature of the spine, and had three corrective surgeries. The increased pain to her spine "was unbearable, and then I started having pains throughout my body and was placed on large doses of pain medications that weren't helping", she recalls. They tried injections, acupuncture, tens units, and physical therapy. In July of 2018, a neurosurgeon placed a pain stimulation device in Nicole's spine to help control the pain.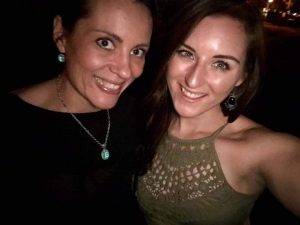 Nicole one week before diagnosis (left).
An infection arose from the device and Nicole's health declined quickly. After many visits to the ER, an emergency surgery, and an appointment with a nephrologist due to early kidney failure, Nicole's doctors suspected she had multiple myeloma.
The reality of having myeloma greatly impacted Nicole's health in every aspect, as expected.
Almost a year out since diagnosis, "I am extremely tired all the time, my mental capacity has changed since chemo, my emotional well-being has been a rollercoaster of moods making me lack any motivation too be around friends, and I still deal with a lot of pain from all the lytic lesions throughout my body so I am on strong pain meds that make me drowsy", she says.
As far as trying to keep up, Nicole makes nutrition her number one priority. She struggles having an appetite, so she has to remain conscious to eat healthy foods every 4 hours and drink water.
She also walks everyday. "Sometimes it is just to the mailbox and other days I'm able to do the entire block. I also do pilates sessions with someone that specializes in back and health issues. We go slow and I definitely feel it the next day. Right now I am only able to handle one session a week," she admits.
Having dogs that need daily walks helps her stay motivated. She also draws great support from her husband, who she can lean on if needed.
"I just feel so much better if I keep moving, even if it's just bed exercises with my elastic bands, or slowly cleaning the house. I personally think I can do more than I should, and I end up paying the price for it all the time, being stuck on the couch for a couple days after I've pushed myself too far...but I think my internal drive is what has gotten me through some things," --Nicole S.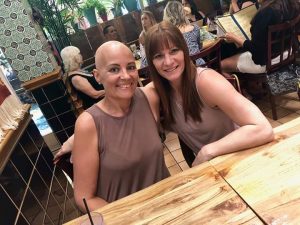 Nicole two months after SCT (left).
Nicole has seen that physical activity of any kind improves her life. She encourages others to do what they can and feel the joy that comes from movement.
"You have to want to feel better, and if you don't move, you'll feel worse. Find something that you like to do. Be it yoga, walking, biking, swimming. Just find it and do it. It will not only make you feel better physically, but also emotionally. Find a friend that can come with you to exercise."
Along with good nutrition and daily walks, Nicole tries to prioritize weekly massages, daily vitamins, scheduled pain meds, and a positive outlook on her life. Positivity is the primary way Nicole maintains her mental well-being. "It is difficult to stay positive, but happiness is a chosen action and I have always believed this,". She says isolation can be damaging to mental health, so she joined an online support group, talks with friends and family on the phone, and most of all relies on her husband who knows exactly what to say or do when he sees her "going down that rabbit hole of sadness".
"I have surrounded myself with people that are here too cheer me on and support me. I am also a true believer in faith and that God ultimately has it under control," --Nicole S.
A special thanks to Nicole for sharing her story.
Thanks to our Muscles for Myeloma sponsors: