September was Blood Cancer Awareness month and time to focus on how some myeloma patients are developing Muscles for Myeloma. Staying fit is critical for your best myeloma outcomes. Every patient will be different in what they can do, so talk with your doctor, listen to your body and stay as active as you possible can based on your unique situation.
By Shirley Binkle
After a month-long golf holiday in April 2017, I came back feeling very ill. I had a lump on my right shoulder the size of a golf ball. I was not that well while away and wasn't able to golf. I could hardly walk, taking Advil daily. In retrospect, we should have come home earlier.
I saw my doctor on May 1st, and a variety of tests began. Bloodwork, x-rays and ultrasound showed an aggressive lytic lesion on the right clavicle. (I was having issues in 2016 with that shoulder and they told me it was bursitis at the time). A week later my doctor sent me to emergency as now I developed a blood clot in my right leg. My left arm hurt so much I couldn't lift it and I was having trouble walking, feeling very weak. The CT scan showed blood clots in my lungs. Full body x-rays were completed and revealed I had multifocal lytic lesions involving the skull, humerus, right femur, bilateral clavicles and right 7th rib. I had a compression fracture at T11. I was at high risk for pathological fracture. Thrombosis put me on blood thinners (needle), my left arm in a sling to immobilize it and put in a wheelchair with a prescription for pain (OxyContin). Two attempts at a bone marrow biopsy, May 19th and 26th finally revealed I had multiple myeloma.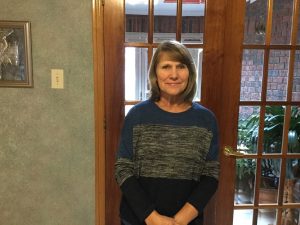 I went on a 16-week chemotherapy schedule -CYBORD. In July I had one dose of radiation in my spine, left arm and right hip. I didn't think I would be around for Christmas 2017. During May-June I couldn't even make my own coffee. My husband was my caregiver as well as my sister during my weakest time. I had community care coming daily, a hospital bed for comfort, a wheelchair to get around if I had to go out. I couldn't stand in the shower or wash myself for that matter. I was too weak. But after a week on chemo, steroids I got stronger daily. I started using a cane to walk. Then by mid August 2017 I started doing my daily walk till I worked back up to 5km by September. This was very important to me. My oncologist said my blood results were good and I was scheduled for a transplant in October.

Once I recovered from the stem cell transplant, it took a couple of months, I was able to get back to my normal daily activities. I decided to join a yoga class. It was difficult but I did what I could and the teacher was great. When the weather got better I started walking 5km daily if weather permitted. When I was diagnosed I was told I wouldn't be able to golf again. I decided to give it a go in April 2018, my usual golf holiday. I was careful, but able to play! I was so happy my life was becoming normal again. I feel that staying active keeps us stronger and healthier. I was active prior to my diagnosis and I try to continue to do so. I had sciatica pain in February\March of 2019 which slowed me down. MRI results didn't show any more cancer so I continued to do my walking and went on my yearly golf holiday. I did golf even though sometimes in pain. This past May I had nerve pain in my back and couldn't walk for three weeks, but with the help of Preglabalin I slowly got back to my new normal. So, by mid July I was able to do my 5km walk again, I have a paddle board that I used a few times this summer. It strengthens core muscles. I enjoy cutting the grass and was able to do that again as well as gardening. I got back into golfing and try to go once a week. I feel if I keep moving and do the things in life that make me happy, I feel healthier, even if I can't do them as well. Motion is the lotion.

My husband and I love to travel so we were able to go to Europe in September 2018. We went to California in January 2019 and went on a golf holiday in April 2019. We are planning a trip to Thailand in January 2020. Having something to look forward to keeps me happy and positive.


"I have had tremendous support from my family and my friends throughout my mm journey and that is so important to me. Exercise keeps me healthy. I do what I can when I can. I try to eat a healthy diet most of the time but enjoy splurging now and again. Life is good!"
Thanks to our Muscles for Myeloma sponsors: