Register Now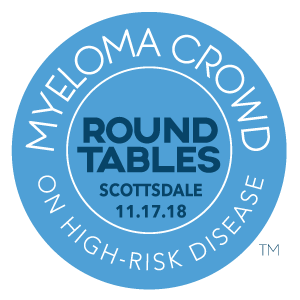 Myeloma Crowd Round Tables on High-Risk Disease are day-long patient education meetings featuring world-class experts to assist patients and caregivers to make decisions about their treatment and care.
The presentations help make the most difficult issues in myeloma research and treatment—high-risk, relapsed and refractory disease—understandable in plain language. Myeloma Crowd Round Tables provide patients and caregivers with updated information to help make informed treatment decisions.
Learn from top myeloma experts about aggressive and high-risk disease and what you can do to stay one step ahead for your best outcomes. This is a great opportunity to learn from top myeloma experts about what you and your physicians can do to stay one step ahead and achieve your best outcomes. Extensive time for audience questions is included in every Round Table. Topics will include:
Strategies for High-Risk, Relapsed, and Refractory Disease
Myeloma Genomics/Chromosomal Translocations and Deletions
Transplant Issues for Standard- and High-Risk Disease
How Imaging Helps Determine Treatment Options
Monoclonal Antibodies and Immunotherapy
Making Sense of Combination Therapies
HealthTree: Understanding Your Disease and Therapy Options
Date: Saturday, November 17, 2018
Time: Registration begins at 8:00 am. The session runs from 9:00 am - 3:30 pm.
Site:
Mayo Clinic - Scottdale Campus, Ashton B. Taylor Auditorium, 13400 East Shea Blvd, Scottsdale, AZ 85259
Need a hotel room? The closest hotel room to the venue is the Courtyard by Marriott, on 13444 East Shea Blvd, Scottsdale, AZ 85259. There are many hotels in the area as well as in Phoenix.
Cost: Registration is $25 per person. (Please contact greg@crowdcare.org, or call 330-990-1090, if you require financial assistance)
Faculty:
Dr. Leif Bergsagel, Mayo Clinic
Dr. Rafeal Fonseca, Mayo Clinic
Dr. Amrita Krishnan, City of Hope
Dr. Gareth Morgan, University of Arkansas Myeloma Institute
We look forward to seeing you in Scottsdale!
Thanks to our sponsors: