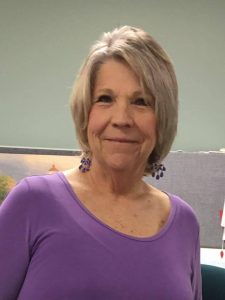 Mary Quarterman lived with and monitored her smoldering myeloma for years. She decided to consult a Myeloma Coach when she was considering starting treatment. She recently shared the following thoughts on her experience working with a Myeloma Coach:
BY MARY QUARTERMAN
The Myeloma Coach program helped me understand that advocating for myself was not wrong, it was not over stepping the bounds of my relationship with my doctor. The particular Coach I chose to work with had some similarities as well as some differences in our disease and the process that we chose to follow, but we had the same goals. We both had the desire to receive treatment and to live as long as we can, as myeloma treatments are changing rapidly.
When I initially talked to my Coach I had not yet started treatment. However, when I made the decision to begin treatment, it was helpful to talk about what to expect and it relieved my mind to talk to someone who had gone through it. I enjoy online forums and frequently use the Facebook group which has been helpful, but they do not replace the opportunity to talk to someone. Physically talking to a Coach made a significant difference for me. She was very open and always listened, never telling me how I should or shouldn't feel. When my disease became active, I was very afraid. She became a solid foundation I could lean on. She had been through similar feelings and experiences and while it wasn't easy, she got through it. That gave me hope.
My Coach not only helped me mentally and emotionally process myeloma, but she also shared practical advice. She shared tips about travel, how to use meditation to support me in maintaining my health and wellness. She helped me learn how to go about obtaining a second opinion, and how to share with my physician (who I admire and respect) that I wanted a second opinion. I am happy to say that receiving a second opinion has not changed my relationship with my current physician (as my Coach assured me it wouldn't).
She also empowered me to be an advocate for myself. Looking back and in hindsight it was VERY important for me to do this. Learning how to self advocate is an important tool in my tool chest that is helping me navigate myeloma.
As I am preparing for my stem cell transplant, I look forward to continuing my relationship with my Coach and having someone to talk to and lean on when needed. She has shown me that I am not alone.
As a patient you find that those you would typically go to for support (family, friends, etc. that don't have myeloma) often have a hard time understanding or providing support in a way that is needed, and I don't expect them to. I am grateful to have a Myeloma Coach who understands completely what I am experiencing, is my sounding board, never judges me and helps me process and clarify what I am going through.
We have over 100 Myeloma Coaches willing to work with other patients or caregivers to provide support and resources. Don't wait! If you would like to become or work with a Myeloma Coach, visit our website today at: www.myelomacoach.org.
Find more news and information about myeloma on www.myelomacrowd.org.