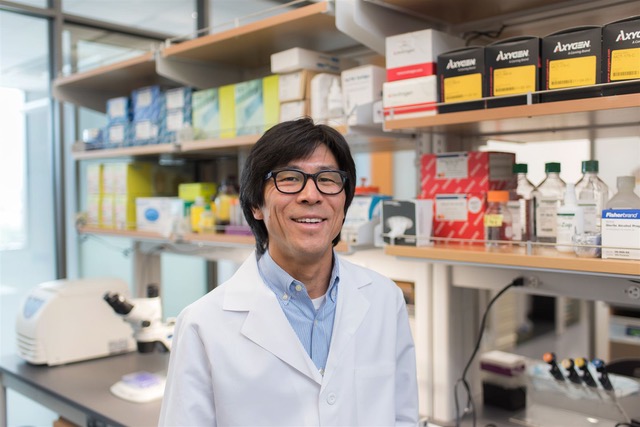 "One big thing that differentiates the approach here in Austin compared to my past experience is that clinical care is modeled on a 'team of providers' approach—nurse practitioners, social workers, nutritionists, psychologists, fertility specialists, genetic counselors—to individualize treatment. I think we do a better job of taking care of the entire patient, not just their disease."
Starting a major medical school and cancer institute from scratch in this day and age is rarer than a sighting of Halley's Comet. Doing so with the audacity to become a world-class research and treatment institution in the foreseeable future seems the very embodiment of the boast, "go big or go home."
That's the way they do things in Texas. Or so Texans like to tell us!
It makes sense the University of Texas Dell Medical School's LIVESTRONG Cancer Institutes sought out Dr. William Matsui to be its Deputy Director and director of its Hematological Malignancies Program. Dr. Matsui, a myeloma specialist, spent 18 years at the Johns Hopkins School of Medicine, the last four as Director of the Multiple Myeloma Program, conducting groundbreaking research on myeloma stem cells and treating patients.
The challenge of leaving the oldest medical school in the U.S. for the opportunity to be a conceptual architect of its newest was irresistible for Dr. Matsui. It is a unique challenge, one unlikely to occur again in a lifetime in the contemporary world.
The Dell Medical School's philosophy resonated with him, "it takes into account a value-based approach to treatment, which is not just about economics. It's about helping patients to be least inconvenienced by their disease; how to live their daily lives in a more normal manner."
"As a doctor, I feel more comfortable when I ask about or notice issues like anxiety, depression, or all of the other things besides myeloma that affect patients. In my previous experience, I talked primarily about myeloma because I had little influence—or expertise, quite frankly—to help with non-medical issues, even though these issues are essential to their care."
Valuing the fundamentals of patient care resonate deeply with a researcher like Dr. Matsui, who has spent a career trying to understand the most elemental issues cancer and myeloma. His early research explained how the Hedgehog signaling pathway determine the behavior of stem cells in myeloma and other cancers. In their original genetic state, myeloma stem cells tend to look alike, yet they do not act predictably as they mature. Understanding the hows and whys of this behavior drives Dr. Matsui's research.
As a noted transplant expert in a range of hematological malignancies, Dr. Matsui has also long had an interest in refining allogeneic transplants in myeloma patients, which "is probably the oldest established form of immunotherapy."
"Dr. Matsui is one of the great myeloma researchers and specialists in myeloma," notes Myeloma Crowd founder Jenny Ahlstrom, "His approach to research and clinical practice put him on the forefront of the emerging field of practicing personalized medicine."
Combining past experience and current research interests with the Dell/Livestrong philosophy finally started coming together for Dr. Matsui when he started seeing patients in June.
"For example, I recently started treating a young woman with young children. Myeloma is the least of her problems, at least in her day-to-day life. Before I would have asked myself if I was treating her myeloma. Now I'm asking, am I—are we—meeting her needs? The reality of myeloma in today's world is that patients are living longer, their disease is becoming chronic. So, if we are to provide the best care for the whole patient, for each individual patient, we have to make sure other things in their lives are OK."
For myeloma patients in the Hill Country around Austin in south-central Texas, the timing of the creation of a new medical school and cancer institute could not be better or more promising. Austin, has the fastest growing metropolitan area in the U.S., having experienced a population increase of 26.3% since 2010, making the city the 11th largest.
Dr. Matsui's leadership could well help guide the young Dell Medical School and the LIVESTRONG Cancer Institutes to become one of the shining lights in the universe of myeloma and cancer research and treatment. And, unlike a reappearance of Halley's Comet, we won't have to wait more than 70 years to see it shine.