Myeloma Crowd Round Tables are day-long patient education meetings with top myeloma experts. Each meeting is focused on assisting patients and caregivers in making the best decisions about their treatment and care.
The presentations make the most difficult issues in myeloma research and treatment—high-risk, relapsed and refractory disease—understandable in plain language. Myeloma Crowd Round Tables provide patients and caregivers updated information to help make informed treatment decisions. Topics typically include:
Standard- and High-Risk Disease Issues
Strategies for Refractory and Relapsed Patients
Update on the role of Stem Cell Transplant in Treatment
Understanding and Sorting Out Combination Therapies
Newly Approved Therapies in the Clinic
Research in Prognostic Genetic Markers for Myeloma
HealthTree: Assisting You in Finding Your Best Therapy and Specialists
Patients and Caregivers Interact
Every Myeloma Crowd Round Table includes extensive time for attendees to ask questions for the faculty in a format that also allows faculty members to interact and comment on each other's observations. For some Round Tables, discussion sessions moderated by physicians and researchers have proven to be very popular. It has been the unanimous opinion of faculty members that audience questions are always more complex and informed than previously expected. This, in turn, motivates faculty members to learn how to translate more difficult and abstract concepts into language that is lay-audience accessible.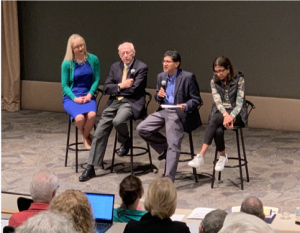 Upcoming Round Tables
Interested in participating in a Myeloma Crowd Round Table? In 2020, we will host 6-8 Round Tables across the United States. Registration for our San Diego Round Table is open and additional Round Tables will open in the coming months. To stay up-to-date on future meetings and find a Round Table near you, please sign up for the Myeloma Crowd Newsletter.
Register Now MCRT San Diego March 7, 2020
- - -
January is Myeloma Crowd Month! In the coming weeks, we are highlighting each of our programs and how they can help you in your myeloma journey. For more information about a specific program, please email info@crowdcare.org.