Myeloma Crowd Radio is an online radio series of patient-led interviews with top myeloma experts. A majority of the interviews focus on learning about a new clinical trial - who is eligible, what is the treatment, and how the trial can benefit you.
When Jenny was first diagnosed she found that it was difficult to understand and sort through the hundreds of clinical trials in myeloma. With over 450 open myeloma clinical trials, navigating them and finding one that was personally relevant seemed impossible. This encouraged her to start a radio show, initially called mPatient Myeloma Radio. Later the show was changed to Myeloma Crowd Radio and Jenny has since hosted over 132 shows interviewing world renown myeloma experts. The show is incredibly popular with over a million and a half listeners or readers.
During each show, Jenny is focused on simplifying the data and asking patient questions about each clinical trial - ultimately, bringing it down to a patient level. At the end of the interview, the show is opened up to listener questions and anyone is welcome to dial-in and ask questions about what was discussed.
How Can I Tune Into the Show?
You can tune into the show by phone or computer. Upcoming show information is posted on the Myeloma Crowd site and in the Myeloma Crowd Facebook groups. Patients and caregivers are highly encouraged to tune into the show when it's live to ask questions, but if you are unable to make a show, a transcript will be posted shortly after to read and review the show.
Example Transcript: Weighing Cancer Cells for Personalized Myeloma Therapy, Dr. Reid
Why the Myeloma Crowd Radio is Important for a Patient?
(Pulled from an article Jenny wrote about the show:)
"After I finished three years of myeloma treatment, I was cautiously optimistic but realistically worried about the future of my health. Would the aggressive treatment I had "stick" for years or would I have an aggressive form of myeloma that would cause an immediate relapse? Because I am not keen on a last-minute panic attack when it comes to my health, I logged in to www.clinicaltrials.gov to review the open clinical trials, just in case I needed one. I was blown away. There were over 425 active clinical trials for myeloma testing new drugs or combinations of drugs with names that meant nothing to me.

How was I supposed to choose my next treatment when I didn't know what the difference was between pomalidomide and lenalidomide? Or if daratumumab might be interesting? Or how immunotherapies were used in myeloma? With a medical community that disagreed about the approach to myeloma, how could I find the best, most appropriate clinical trial for me?

That simple question started my journey to find answers for questions we all share. After I learned that fewer than 3-5% of myeloma patients participate in clinical trials, it became very obvious that unless more of us joined these trials, new discoveries were going to take the typical 10 years to find. I don't think most of us have that kind of time -we're on myeloma time!"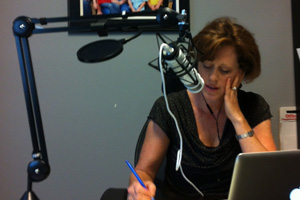 Jenny's first Myeloma Crowd Radio show
Being an impatient myeloma patient, I decided to start an online radio show and named the series mPatient Myeloma Radio. Not a radio broadcaster by any means (and that should be fairly obvious to everyone) I started interviewing the best and brightest in myeloma to learn more about the latest, cutting-edge research being done. In the second show, Dr. Guido Tricot said, "Getting the right treatment is not a matter of convenience." I am finding that pushing the envelope in myeloma is equally inconvenient but work worth the reward. I (and I hope many of you) now know what is happening in myeloma by investigators all over the world and know the key research and clinical trials taking place."
Jenny has seen how beneficial these interview can be for her personally and for her viewers. It allows patients to engage with world-renowned researchers while simplifying treatments at a patient level. To read more about Jenny's story behind the show, click HERE.
Patient Questions are Encouraged!
As mentioned earlier, listeners are encouraged and invited to ask questions at the end of each show. It's an easy way to learn more about potential treatments and address any questions or concerns you may have before enrolling in a new treatment or clinical trial.
Stay Tuned for a Our Upcoming Shows
New show dates and information will be posted on the Myeloma Crowd site in the coming month. Stay tuned for an exciting year of the Myeloma Crowd Radio!
Find All Past Myeloma Crowd Radio Shows